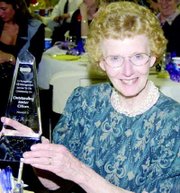 An evening of laughter, surprises and really good desserts sums up the 2004 Sunnyside Chamber of Commerce annual awards banquet held this past Saturday night.
The award winners' families and friends gathered at Navarro's Family Center to celebrate their well-deserved recognition, as well as an entertaining auction of delectable desserts.
More than $1,500 was raised from the highly competitive dessert auction, which preceded the announcement of the outstanding citizen awards.
More than 13 desserts, such as a banana cream pie which sold for $150, and a mango cheesecake, that raised at least $80, were offered for auction for the Chamber coffers.
While the sold-out crowd of banquet attendees enjoyed their expensive, but tasty desserts, the Chamber's outstanding citizens were presented their awards.
This year, two Sunnyside senior citizens were honored for their many volunteer community service hours.
"This town's senior citizens are so worthy of recognition, it is hard to pick just one," said Greg Smith, who served as master of ceremonies for the evening's festivities.
Smith described one awardee as Sunnyside Community Hospital's goodwill ambassador and the other as a woman who takes her work home with her. Known as the "voice of Sunnyside Community Hospital," Mabel Kluth and American Red Cross and church relief worker Gay Roskamp of the Sunnyside Christian Reformed Church shared the Outstanding Senior Citizen award.
Long-time Sunnyside Pioneer Elementary School Principal Stan Davis and Pioneer Elementary School fourth grade teacher Rose Hall shared the Chamber's Outstanding Educator honor during Saturday's banquet.
Davis, who will retire at the end of the 2004 school year after 30 years in education, was honored for his ability to be an inspiration to staff and students, alike.
Hall, who has shaped the minds of area youngsters for more than 40 years, currently teaches 26 "lucky" fourth graders, said Smith.
"She makes her students feel as though each is teacher's pet," said Smith.
Sunnyside High School senior Stacey Gorski, fresh from claiming grand championship honors at the 49th annual Mid Columbia Regional Science Fair, was named as the Chamber's Outstanding Youth. Smith said Gorksi exemplifies the qualities that adults look for in the young leaders of the community.
"She is mature and responsible and manages to balance her many activities with a decent amount of fun," he said.
A familiar face at the Sunnyside city parks, Luigi Rosal, was honored as the Chamber's Outstanding Public Employee. Smith called Rosal, who has worked for the city for the past 25 years, "the "man of the year for his untiring help with community events."
Honored as the outstanding new business in the community was L&M Screenprinting, owned by Marietta and Larry Schmid. The couple opened their Sunnyside print shop just a year ago, said Smith, who described the husband-wife team as friendly, multi-talented and community spirited.
"They pride themselves on going the extra mile for their customers," he said.
Sunnyside restaurateur Jose J. Mora of El Conquistador was named as the Outstanding Businessperson of the Year. Mora, who arrived in Sunnyside just seven years ago, operates two restaurants in the community, as well as a mobile vendor wagon, said Smith.
"He's in the business of getting down to business," Smith said.
Alex de la Cruz and wife, Audrey, were honored for their outstanding community beautification efforts at their brand new A&W/Kentucky Fried Chicken franchise on Yakima Valley Highway.
"The appearance of the couple's building and its landscaping is pleasing to the eye and a real benefit to our community," Smith said.
Long-time farmer Cliff Van Belle was honored as the community's "Outstanding Agri-Businessman of the Year." Van Bell, a native Sunnysider, farms 1,000 acres of wheat, corn, hay and mint.
"He plays as hard as he works," said Smith. "He is passionate about snowmobiling, NASCAR and fishing and water skiing with his grandchildren," Smith said.
Dr. John W. Allen was named the "Outstanding Volunteer of the Year." Smith described Allen as a physician who still makes house calls for his elderly patients. He is also the medical director for Lower Valley Hospice and the rehabilitation doctor for Hillcrest Manor.
"He goes way beyond the call of duty," said Smith.
"He also volunteers for the school athletic programs and the local Boy Scouts of America program," Smith added.
Ruth Barry was awarded "Outstanding Health Care" honors for her dedication to nursing education. A clinical instructor at Yakima Valley Community college, "Barry exemplifies the excellence we want for all medical personnel," said Smith.
In addition to the awards ceremony, the Chamber hosted a silent auction during the course of the evening, which raised several thousand dollars for ongoing Chamber projects, said Tom Gaulke, Chamber president.