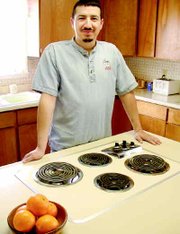 Nine years ago Grandview resident Ruben Cruz, owner of Cruz Tub and Tile, was reading through a trade magazine when he found information about a process that countertops and bathroom fixtures can go through to change or refurbish the colors.
"I wasn't even looking, it just caught my eye," said Cruz.
He began by corresponding with the franchise that has the glazing process patented.
Intrigued by the prospect of updating old fixtures and countertops without replacing them with new ones, Cruz, who at the time was working at a Grandview grape juice processing plant, went to California, where he was trained in the process. He said the glazing can be applied to porcelain, fiberglass, tile, Formica and plastic.
The process uses special tools and glazes on the countertops to give them updated looks.
"It can be used on just about anything," said Cruz. "I can take an old yellow fiberglass or porcelain tub and put a new finish on them to make them look new."
In his family's home he refinished the harvest gold countertops and made them almond.
"It's a lot faster than having everything ripped out," said Cruz, adding that it is also more economical.
He said most jobs are done in a day. Working with both private home owners and contractors, Cruz has been called in to update numerous old showers and tubs, he said.
"There's a lot of yellow and green showers in the Valley," he said.
He said he can customize and make a fixture or countertop any color. Among the most popular colors, though, are almond, bone, off-white and white.
Cruz said he can apply either a matte or semi-gloss finish or a glossy finish.
He said countertops are usually finished with a semi-gloss and tubs and toilets are glossy.
Traveling from Yakima to the Tri-Cities to provide his services, Cruz said the most unusual thing he has been asked to refinish has been a 1920s embalming table.
He and his wife live in Grandview with their four children.