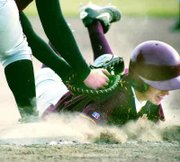 GRANDVIEW - For only having a week's worth of practice because of the State 'B' basketball tournament, the Sunnyside Christian High School baseball team didn't look too shabby yesterday.
The Knights varsity jump started their season yesterday in Grandview against the junior varsity team of the 3A Grandview Greyhounds. Behind a solid three innings of work from Chad Den Boer and some noteworthy performances at the plate, the Knights went on to a 10-4 win.
"For the first game of the year, I was pretty pleased with what I saw," said Sunnyside Christian Coach Kevin Fennell. "We had some solid pitching. We had some decent power hitting."
The Knights tallied a lone run in the opening frame before adding two more in the third. The big inning for Sunnyside Christian was a four-run fourth.
The Knights put the game away with a three-run showing in the fifth. With two outs, Aaron Van de Graaf ripped a double. Lucas Kilian dribbled a single that brought Van de Graaf home. After stealing second, Kilian scored off an RBI base hit from Justin Burgers. Den Boer finished off the scoring for the Knights with his single that plated Burgers.
The Knights had 13 hits on the day, led by a 3-for-4 performance from Kilian.
Fennell said Kilian had an all-around solid day. Kilian scored three runs, had five stolen bases and worked two noteworthy innings on the mound for the Knights, allowing just three hits. He picked up the win in relief.
Den Boer tossed three scoreless innings for the Knights, racking up seven strikeouts and allowing just one walk.
"Chad was on," said Fennell. "He was mixing up his pitches."
The Greyhounds didn't get on the board until the bottom of the fourth. Grandview tallied lone runs in the fourth and sixth innings and then finished with a two-run showing in the seventh.
Fennell said the Knights still have a bit of work to do defensively, as he would like to see his team commit less errors. Sunnyside Christian had two miscues on the day, leading to one unearned run.
Sunnyside Christian (1-0) will host Thorp this Thursday in another non-league game.