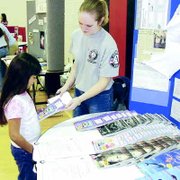 More than 60 parents showed up this past Saturday at Harrison Middle School to participate in the first "No Parent Left Behind" conference.
The conference offered parents information about stages of their children's academic and social development, as well as information about testing and school legislation. Taking its theme from the federal No Child Left Behind legislation, the conference was designed to given parents a thorough knowledge of what goes on at school, explained Sunnyside School District Home Liaison Nathan Marchello.
The parents attended three workshops, as well as a resource fair featuring community social services that are available. Workshops covered the stages of a child's development, what to do and say at a parent-teacher conference and alternatives to TV.
"We had parents asking us to hold this type of conference more than once a year by the end of the day, said Marchello. "It was a very positive experience for everyone," he said.
The most popular of the workshops offered information for parent-teacher conferences, which will be held in the Sunnyside School District April 1 and 2, just prior to spring break.
"We offered suggestions for the type of questions parents might ask at a conference," explained Edalina Diaz, workshop leader.
"We encouraged parents to ask about their students' academic and social behavior during the parent conferences," Diaz said.
"Our aim was to empower parents to learn more about their child's teacher and their child's behaviors and their progress in the classroom," she explained.
"We encouraged parents to learn what their child's educational goals are and to ask teachers how they can help," she added.
Diaz said a lot of the parents were concerned they wouldn't be able to understand the English speaking teacher. "But we told them interpreters will be available at the conferences," she added.
Diaz said information on the Washington Assessment of Students Learning tests and district retention policies were also explained. "Everyone seemed very thankful for the information," she said. The day-long conference was hosted by the Sunnyside School District's Community Outreach program.
The resource fair included materials from such agencies as Lower Valley AmeriCorps, Northwest Community Action Center, Consumer Credit Counseling Services, the CORE (Choices Options Resources Education) program, Washington State Migrant Council, Yakima County Re-licensing program and state Migrant Student Data and Recruitment Office.
"We have a lot of people to thank for helping put this conference together, including Sunnyside merchants, who donated food and materials for the lunch and the resource booths," Marchello said.
"One of the most exciting things to come out of the day was some parents have volunteered to work on future conferences and to go into classrooms to help their children." Marchello said.