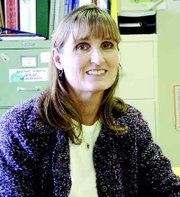 Kylee Sonnabend-Liberty was so busy worrying about a fellow teacher, she didn't hear her name called as the winner of the 2004 WALA (Washington Association for Learning Alternatives) Educator of the Year award.
"I was shocked when my dinner companions told me they were calling my name," said the reserved PRIDE High School English teacher. She received her award during the annual WALA spring conference held at Ocean Shores this past weekend.
Sonnabend-Liberty, who has taught at PRIDE High School for the past five years, said she didn't know she was even nominated for the state award given to teachers of alternative education.
"She goes far beyond what's expected of her as a teacher," said Gary Babcock, PRIDE High School administrator
"She is critical of the needs of her students and re-evaluating how to best get the information to them," Babcock said.
In the nominating letter to the state association, Babcock described Sonnabend-Liberty as a self-disciplined person who demands of best of herself and her students.
"Under her guidance, students grow not only in skills but in self-confidence and assurance of their abilities," Babcock wrote.
"She is a person who overworks," said Babcock.
"It's just part of her make-up. She doesn't think of her efforts as going the extra mile. She considers it part of the job," he added.
Sonnabend-Liberty, who has spent much of her career doing long-term substitution work, holds a Master's in education from Heritage College. She began teaching full time when her career as a karate teacher came to an end as a result of a hip injury.
"I do tend to over analyze my job a lot," she admitted." I try to think of ways to do it better tomorrow," she added.
Sonnabend-Liberty not only teaches English at PRIDE High, she works with students on their learning experience plans and with seniors working on their senior portfolios. She serves as PRIDE High School's coordinator for MAP (Measures of Academic Progress) testing and works to monitor students' reading progress.
She is also an active participant in the school improvement plan and the district teaching and learning committees.
"She is a role model not only for her students but for all educators, who truly want to make a difference and impact students' lives in a positive manner," Babcock said.