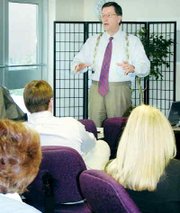 The 16-block central business district in downtown Yakima has been facing some tough times over the past several years. However, efforts being made by the Capitol Theatre, located on South Third Street in Yakima, could help change that.
Steven J. Caffery, CEO and executive director of the Capitol Theatre, spoke to members of the Sunnyside Daybreak Rotary Club Wednesday morning about a project the theater is planning to spearhead for downtown Yakima.
Caffery said the first step in the project is to update the current Capitol Theatre building. He said with the building being as old as it is there are issues with everything from its heating and air conditioning systems to the number of women's restrooms located in the theater.
According to Caffery, one way the non-profit corporation that operates the theater, which is owned by city, would like to deal with updating the building is by purchasing the parking lot behind the theater and expanding back. He said the area in the back of the theater would be used for such things as storage.
Caffery said the update also includes some work being done in the basement of the theater. He said this is where additional women's restrooms would be installed, as well as other amenities.
The update of the Capitol Theatre building, Caffery noted, would help define downtown Yakima as an entertainment district and hopefully would mean more people coming downtown.
Simply updating the theater itself is only the first step in the process of revitalizing downtown Yakima. Caffery said the plan also includes the creation of an outdoor plaza across the street from the theater, where the Millennium plaza project stands. He said creating a pedestrian friendly area is important and would open up the downtown.
"We want to create a Yakima experience," Caffery said.
To date, more than $1.5 million has been raised for the project. Caffery explained that the funding has come from a variety of sources, including $500,000 in state funding and $450,000 in federal funding.
Caffery said one of the reasons the plan has been so well received at both the state and national levels is the amount of local support it has behind it.
"A foundation of what we're doing is pride," Caffery said. "Pride in our ability to pull ourselves up by our own boot straps."
Caffery added that there are three vital components in having a healthy downtown, which include having a destination point, activities and housing. He said he currently has people who, once the project gets underway, are ready to come in and build condos and boutiques in downtown Yakima.
"We are ready and positioned to go," he said.