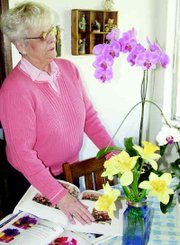 Sunnyside resident Jane Swindell believes that flowers are not just for special occasions, but are for everyday living.
As a child she remembers her mother's garden and the flowers that bloomed.
"In my mother's garden there were rows of Zinnias, marigolds and nectaroscordum," said Swindell. "It was my job to go out and cut flowers."
With an endless supply of fresh-cut flowers there were bouquets in every room, filling the house with life and color.
Swindell hopes to pass her love of flowers on to local gardeners looking for a way to bring the beauty of the outdoors into their homes. She is teaching a floral design class through the Sunnyside Parks and Recreation Department.
"I hope to teach people the basics of flower design and about the different kinds of arrangements they can make," said Swindell. She wants to teach her students how to make an English bouquet, which is a gathering of different kinds of flowers.
She also plans to teach students how to make structured bouquets and something appropriate for a dinner party.
Although class participants are encouraged to bring flowers from their gardens, Swindell said they may have to supplement with flowers from different floral departments.
Swindell said a common misconception is that lots of flowers are needed for a bouquet.
"Often times it takes very few flowers to make a dramatic bouquet," said Swindell, adding that vases don't have to be detailed to make a beautiful bouquet.
Another mistake people make when making floral arrangements is not having a general design idea they are trying to achieve when they begin. She added that table centerpieces are often too big and hinder conversation rather than enhance it.
Swindell began working with floral design in 1975 when she started decorating for the annual Medical Ball that used to be held in Sunnyside.
"One spring Maynard (Huenefeld) asked me if I wanted to come in and do some work," she said. "I learned floral design from them."
As the Huenefelds became more interested in propagating grapes, mint and hops, Swindell took over more of the floral aspects of the business.
"I've done flowers for weddings and I do the flowers for the church," said Swindell, who attends Holy Trinity Episcopal Church.
She said during the summer months, she uses roses in the church's rose garden in floral displays.
"To see a beautiful rose that's opened naturally, is exquisite," said Swindell.
"I want to teach people how to use flowers," she said. "Most flowers should blend in."
She added that it's also important for people to know when a floral project is finished.
Swindell's class is sponsored by the Sunnyside Parks and Recreation Department.
The class will be held Saturday, April 3, from 10 a.m. to noon. The cost to attend is $5 for in-city residents and $7.50 for non-city participants. For more information on the class contact the Sunnyside Parks and Recreation Department, 837-8660. The class is limited to 15 students.