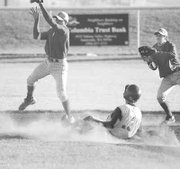 GRANDVIEW - Prosser's Cody Nichols and Ricky Adams combined for six hits and two homers Tuesday afternoon, powering the Mustangs past the Grandview High School baseball team, 10-4.
Yesterday's prep baseball game was the season opener for both schools.
The Greyhounds, getting a 2-for-2 offensive performance from Andrew Benavidez, drew within 4-3 of Prosser by plating three runs in the bottom of the fourth. The Mustangs rallied with a four-run uprising in the top of the fifth, though, to take back control of the game.
Both, Nichols and Adams turned in 3-for-4 efforts at the plate, and each of the Mustangs socked a home run.
Adams teamed with Johnson (1-0) on the mound, limiting the 'Hounds to just five hits in the six-inning contest. For Grandview, Hall (0-1) absorbed the loss, leaving the mound after the third inning with his club trailing by a 4-0 count. Prosser ended up tallying 11 hits off Hall, Adam Pena and Gomez.
Grandview is scheduled to host Goldendale this coming Thursday, with the game slated to begin at 3:30 p.m.