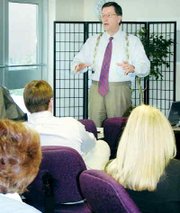 PROSSER - Jan Mathers' mother was a master at finding adventure in the everyday things of life.
Mathers, the featured speaker at the Lower Valley Christian Women's Club meeting Monday morning, still remembers one Easter after her father died, when she was still young. Mathers said that money was tight and she was sad because her family could not afford a new dress for her to wear Easter Sunday morning.
"My mom dyed a pair of my old shoes green, using shoe polish and food coloring," said Mathers.
Unfortunately, it had snowed the night before and Mathers left green footprints all the way to church.
"I have never felt as pretty as I did that Easter," said Mathers, who wore green shoes to speak at Monday's brunch. "Love makes you feel beautiful."
She said her mother was able to find adventure in everyday life.
"She couldn't afford something new, so she got creative with food coloring and shoe polish," said Mathers. "It's the positive attitude that makes you creative," she added.
When Mathers married, her husband was just the opposite.
"I have always loved adventure and married a man precisely the opposite," said Mathers.
Disillusioned by the lack of adventure in her marriage, as her husband's idea of adventure is eating at a restaurant on the other side of town, Mathers knew she had to do something.
"I came to the place after much reading of my Bible and prayer where I realized that adventure is an attitude, not an action," said Mathers.
She said she now wakes up each morning realizing that everything that happens, happens for a reason.
Mathers said not all adventures are bright and fun.
"Some adventures are dark and fearful," she said. "I've learned to welcome those for the lessons I've learned."
Choosing to have a positive outlook is where adventure comes from, said Mathers.
"That lines you up to have an adventurous attitude," she said. "You have to look at everything as the glass is half full."
She said as you start to look at life, adventures will pop out.
"You want to do the things that keep your life stimulated," she added.
With a negative thought process nothing seems interesting, she said.
Although Mathers believes that people are born with an adventuresome spirit, she said that some people develop it. Mathers said her parents were adventuresome, but she feels it was something that developed in her.
"I forced myself to look at the positive," she said.
Since she started speaking to different Christian women's groups, Mathers has been able to speak and travel around the Northwest, adding to her adventure.
"I get to travel everywhere and my husband has no objections," said Mathers.