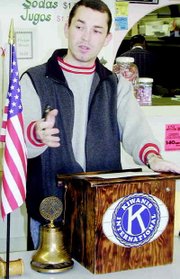 Jason Moyer of the day reporting program spoke to Sunnyside Kiwanis Club members Thursday morning about the program, which is designed to help transition juvenile offenders back into school.
Moyer said each student in the program is court mandated to attend classes as a part of the day reporting program. Students from Toppenish to Grandview are attending classes at the facility, located in Sunnyside.
The program is designed to have three adults working directly with the youths, said Moyer, who is the teacher at the facility. Vianca Herrera keeps order in the classroom and there is a position for a case manager in the classroom to help students work through issues. Currently, there isn't a caseworker at the day reporting school.
"This is not a permanent stop," said Moyer. "This is a transitional program, where we get them working on earning some credits."
He said they also help socialize students and prepare them to return to the classroom.
Geared toward students ages 14 to 18 years old, Moyer said some students who are 17-years-old haven't been in a classroom for three years.
"They have a hard time getting up in the morning," he said.
Moyer and Herrera work directly with students, providing them positive adult interaction and a means to reach goals.
Although some students require two to three months in the day reporting program, some are able to return to school in as little as two weeks, said Moyer.
He said the program is designed to help troubled youths who haven't been successful in any other school environment, such as the regular high school or alternative school.
"A lot of these kids aren't only not having a whole lot of success in academics," said Moyer. "There's not a whole lot of success in other aspects of their lives either. This is a last chance for a lot of these kids."
Since the start of the program four students have transitioned back into school and additional youths will be going back by the end of the month.
Although the program is court-ordered, Moyer said 75 percent of the students enrolled in the day reporting program want to go back to school and do everything they can to comply with the court order.
"Our recommendation goes a long way into getting them back into school," said Moyer, who added that the program is a joint effort between numerous agencies, including Educational Service District 105, the Sunnyside Police Department, Comprehensive Mental Health and the juvenile court system.
"Twenty-five percent don't want to be there, but are still required to attend," said Moyer.
The first month Sunnyside police officers were picking up students living at Sunnyside addresses who were not making it to class, said Herrera. After a few times, the students started attending classes on their own rather than having the police show up at their doorstep.
Students who choose not to behave or comply are put under electronic monitoring house arrest, but are still required to attend classes or will be sent to the juvenile detention center, he said.
Moyer said he is in search of service projects the students can work on to help tie the students to the community.
"We want them to feel good about giving," he said.
The students are volunteering at the National Wildlife Refuge in Othello this week and next week will be working at the rose garden in Grandview.
Moyer is also seeking donations of old furniture that can be used in a reading corner in the classroom. He said his desire is to create a space that is comfortable for the students to relax and read.