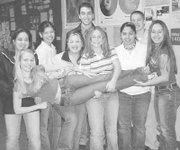 KENNEWICK - Sunnyside High School senior Stacey Gorski has earned a trip to the International Science and Engineering Fair to be held in Portland, Ore. in May.
The young scientist earned the right to represent her high school at the international event by claiming grand championship honors at the 49th annual Mid Columbia Science and Engineering Fair held this past weekend in Kennewick.
In addition to earning regional championship honors, the petite blonde also claimed a number of special awards offered by the many science-related associations affiliated with the regional competition.
Gorski claimed the American Nuclear Society's first place award, a U.S. Air Force Certificate of Achievement, a U.S. Navy/U.S. Marine Corps Naval science award, and a USDA Agricultural Research Service and Washington State Potato Foundation 12th grade certificate of merit.
Also, Gorski earned the Intel Outstanding Achievement in Environmental Science certificate, the International Council on System Engineering Outstanding Systems Approach recognition and the Tri Cities' Sigma Xi chapter's Excellence in Use of Scientific Method award.
Also earning top honors at the regional science fair was Kacee Jo Bootsma of Sunnyside, one of last year's regional fair grand champions. Bootsma took second place honors in the senior division at regionals. In addition, she collected first place honors from Whitman Institute of Neuroscience, as well as a U.S. Air Force Certificate of Achievement. Bootsma was also named the most outstanding 11th grade exhibitor in computer science, engineering, physics or chemistry by the Yale Science and Engineering Association. For the second year in row she was named the Stockholm Junior Water Prize winner, which is offered by the Water Environment Federation and the Pacific Northwest Clean Water Association.
Earning third place honors in the regional senior division were Elias Wise and Amber Gonzalez of Sunnyside High School. Gonzalez also earned the best program in chemical engineering award offered by the American Institution of Chemical Engineers. She claimed third place honors offered by the American Nuclear Society and a U.S. Air Force Certificate of Achievement.
Wise also brought home a second place award offered by the Whitman Institute of Neuroscience.
Earning honorable mentions in the high school division were Sunnyside's Megan Cornelius and Addy Hernandez. Hernandez received first place honors from the St. Mary Medical Center for her project, as well as a U.S. Air Force Certificate of Achievement. Cornelius also claimed first place in environmental sciences from the U.S. Army, and an honorable mention from the Society of Women Engineers.
Halley Rodriguez of Sunnyside was honored by the American Association of University Women with the fair's Outstanding Woman's High School Science Project award.
In the Mid-Columbia Regional Fair's junior division, two Harrison Middle School students earned third place honors in their science categories. Eighth grader Brenda Barrios earned third place honors in the eighth grade life sciences division, while seventh grader Tristan Abbott earned third place honors in the physical sciences division.
Abbott and Barrios received special recognition from the Discovery Channel. Abbott was also recognized for having the outstanding structural engineering project at the fair, designated by the Structural Engineering Association of Washington, South Central chapter.
Harrison Middle School student Naomy Velasco received an honorable mention for her project from the American Society of Mechanical Engineers. Middle schooler Tony Louie received an honorable mention from the Institute of Electrical and Electronic Engineers. Classmate Jessica Clements received an honorable mention from the Society of Women Engineers.
Sunnyside seventh grader Desiree Winters earned a certificate of excellence from the Washington Apple Education Foundation.
Earning honorable mention honors in the eighth grade division of physical sciences were Sunnyside's Adam Cleghorn, Aarika Hernandez and Megan Tyler.
The Sunnyside School District science fair exhibitors are now preparing to travel to a state competition during spring break, according to Joyce Stark, Sunnyside High School science teacher.
Stark said she will be taking 32 middle school students and 10 high school students to the Washington State Science and Engineering Fair.
The state event will be held at Bremerton High School April 2 and 3.