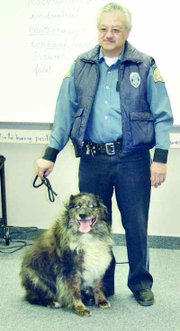 His clear, blue eyes watch every move the man makes as he crosses back and forth across the room. It's not that he is particularly interested in the man. He is, however, interested in the round, green object the man has concealed in his right hand.
Nick might be getting older, but there is still plenty of spark left in his heavy set frame.
Even though he is nearing retirement from his job, Nick, a blue Australian Shepherd, is always eager to play ball with his handler Joe Glossen.
Glossen and Nick work for the Yakima County LEAD Task Force, an agency charged with stopping drug traffic in the Yakima Valley.
The pair took part in a classroom demonstration held at Sunnyside's Harrison Middle School Thursday during Drug and Alcohol Awareness Week. Glossen and Nick demonstrated how the partners search for drugs, which as far as Nick is concerned, the drugs are just an excuse for him to get to play ball. "It's his reward, Glossen explained
"We use the ball as part of his training," Glossen said. "Nick is ball obsessive. He'll look for anything as long as he gets to play ball," he said.
Sniffing out the drugs is a game for him, according to Glossen.
It's a game Nick is very good at. But the friendly dog is getting older and will soon be allowed to play ball as much as he wants too, said Glossen.
Glossen said Nick has worked sniffing out drugs for the past five years. "We are already training a new dog to take over Nick's job," Glossen said.
Glossen said a dog like Nick undergoes more than 240 training hours learning to search out illegal drugs, such as marijuana, cocaine, heroin and meth.
"He is usually pretty mellow, " said Glossen. "Until it's time to go to work, then he is all business," he added.
Glossen said about any kind of dog can be trained to search out drugs. He said a dog chosen for the specialized work must have the ability to follow directions and as in Nick's case, be just a little obsessive about playing ball.
During the course of his career Nick has searched out drugs in homes, cars and one time he found drugs on a person's body, Glossen said.
But now that Nick is getting to be well past age 10, it's harder for him to get up on counters or tables where he may need to search out the contraband.
"I think Nick is looking forward to relaxing around the house and playing ball with my little boy," Glossen said. "He'll finally get to have a few more treats too," he added.