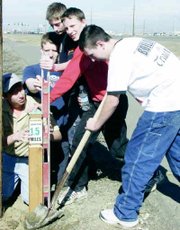 Those making use of the path between Sunnyside and Grandview have Sunnyside High School freshman Jonathan Martin to thank for being able to gauge just how far they have traveled during their usual morning exercise routine.
As part of his Eagle Scout project, the 15-year-old Martin installed distance markers along the pathway every 1/2 mile. Now, morning joggers will be able to tell just how far they have traveled, whether their starting point is Sunnyside or Grandview.
Martin said the idea to install distance markers on the path was one his father and troop leader, Gary Martin, helped him come up with.
"He thought it was a good idea," Martin said. "I thought it would be helpful."
He said he thought the markers would be a good way to help those who use the pathway gauge exactly how far they go when they exercise.
Before work could begin on the distance markers, Martin had to meet with the Pathway Committee to have his project approved. It was only then that Martin could begin the physical work of obtaining Eagle Scout status.
Martin explained that when trying to come up with a design for the markers, he had to take durability into consideration. He wanted to ensure the markers would be sturdy enough to last a long time and still look attractive.
The posts ultimately ended up being constructed of wood with metal caps and an aluminum plate that states the distance traveled. Martin explained that when it came to deciding just what type of material to use to mark the distance on the aluminum plate, it took some thinking. He said he mulled over several ideas, including using stencils and spray paint to mark the distances. In the end, Martin decided to place reflective vinyl decals on the aluminum plates to mark the distances.
Martin said he worked with his father to cut each of the posts and construct them in the family's barn before going out to the pathway to install them.
Martin's work on the pathway included spending several days doing everything from measuring the path and placing temporary markers where the permanent distance makers would go to digging holes, pouring cement and placing the actual posts along the pathway.
Martin, with help from other members of his troop, installed the permanent distance markers along the pathway on March 12.
With the physical labor behind him, Martin said the next step in becoming an Eagle Scout is turning in all of the paperwork associated with his project to the Boy Scouts of America. The organization will then review his application for Eagle Scout status and determine whether or not he qualifies for the honor.
Martin has been involved in Boy Scouts since age eight, and said he has found it to be an organization that is fun with which to be part.
"I've learned a lot about safety," Martin said. "And just a lot of stuff that's important to know."