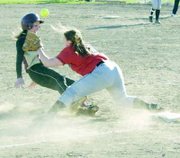 The Sunnyside Christian High School girls fastpitch softball team, dominated by underclassmen, opened the 2004 season with a resounding 13-4 victory over the Thorp Tigers yesterday afternoon.
"We've only got two seniors on this year's team," said SCHS Coach Sandy Harris. "Last year we only went 12-15, but a lot of the wins we got came at the right time. We ended up going to the State tournament, where we won a game.
"We're excited about having the same kind of success this season," Harris added.
If fortune is to smile on the Lady Knights again this year, they'll need another stellar season from sophomore pitcher Emma Hernandez.
"Last year, Emma really came on at the end of the season," said Harris.
Hernandez (1-0) seemed to be close to mid-season form yesterday, scattering seven hits in going the distance. The sophomore hurler fanned three while walking only one.
"She had an excellent opening day," said Harris.
Hernandez, too, had a big day at the plate. She lashed two singles and smacked a double in four plate appearances.
Also coming through with multi-hit performances for SCHS were freshman Brittany Den Hoed and sophomore Courtney Rice.
Den Hoed came off the bench for Jordi Roberts, who turned her ankle in the third inning. The freshman, a speedster on the base paths, singled and doubled in three trips to the plate.
The sophomore Rice also turned in a 2-for-3 offensive performance for the Lady Knights.
Sunnyside Christian forged an early 3-0 lead on the Tigers, in the bottom of the first, with Hernandez initiating the charge by ripping a two-out single. Rice, Carly DeGroot and Ashley Desmarais followed with RBI singles.
The Lady Knights increased their lead to 6-0 by plating three more runs in the third frame. Hernandez ripped a double to open the inning. Following a walk to Desmarais, Rice came through with her second RBI single of the contest. DeGroot and freshman Abby Berkompas drove in the other two runs on fielder's choices.
Thorp closed to within 6-4 in the top of the fourth, but the Lady Knights put the game away with a seven-run uprising in the bottom half of the frame. A single by Hernandez and an RBI double by Amy Mensonides were the key blows in the inning.
Sunnyside Christian opens Greater Columbia 'B' League play this coming Saturday at Mabton.