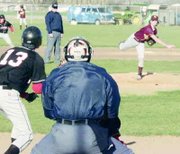 For those who didn't notice, yesterday was a very windy day. But Sunnyside Christian Coach Kevin Fennell isn't making any excuses for his team's loss to Thorp. Fennell said the Tigers were simply the better team.
Thorp used a six-run third inning to beat the Knights 16-5. Sunnyside Christian committed six errors, which led to seven unearned runs.
"It would have been nice to play them without the wind to see where we are at," said Fennell. "But they were a better team."
Fennell said the Knights struggled against some fiery pitching from the Tigers' bullpen yesterday.
"They probably would have had the same problem with the wind if we had been able to hit the ball," said Fennell.
The Knights had five runs off of seven hits while Thorp tallied 16 runs on 17 hits.
"Their first five guys in the line-up were real disciplined hitters," said Fennell. "They killed us."
Thorp opened with a three-run first inning before exploding for six runs in the third. The Tigers expanded their lead with three more runs in the fourth inning. Thorp plated a pair of runs in the fifth and sixth innings to end the game.
The Knights didn't get on the board until the bottom of the third. The big inning for Sunnyside Christian was a four-run fourth. Chad Den Boer started the fourth inning with a walk and then stole second. Teammate Cole Van de Graaf, who had the only extra base hit of the day, ripped a double to score Den Boer. John Bosma then walked and both runners moved up a base after a balk by the Thorp pitcher. Matthew Haak then unleashed a two-run single and stole second. Haak then scored off a single from Derek DeVries.
Fennell said Thorp had some strong pitchers that Sunnyside Christian just couldn't get a bead on.
"They were pitching so well," said Fennell.
Sunnyside Christian (0-0,1-1) opens Greater Columbia 'B' League play this Saturday at Mabton in a twin bill.