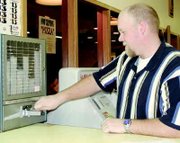 Since 1974, the gambling industry in Washington state has increased from a multi-million dollar industry to a multi-billion dollar industry.
According to the Washington State Council on Problem Gambling, in 1974 gambling revenue in the state totaled $137 million, with horse racing bringing in the most money at $86 million. In 1998, gambling revenue was up to $2.14 billion with tribal gaming alone accounting for $763 million.
Gambling is an industry that can not only bring revenue into the state, but it is also an industry that can bring visitors and tourists to an area.
Dale Drury, interim marketing director for Yakama Nation Legends Casino in Toppenish, said every year an estimated 1.75 million people walk through the doors of the local casino. Legends offers a variety of gaming options, from slot machines to table games and Keno.
Drury explained that most of the casino's guests come from within a 125-mile radius of the gaming facility, although the casino does attract people from other areas.
Drury said the casino, like any other business, has both good and bad months for attendance. He noted that during the holiday season there tend to be fewer guests because people are spending their excess income on other things.
However, Drury said the casino does manage to stay busy on a year-round basis.
Rob Rice, owner of Valley Lanes in Sunnyside, offers his patrons 10 different pull tab games. Rice said on a busy night there will be three or four people playing pull tabs at one time.
Rice said most of his pull tab business comes from people who happen to have an extra 50¢ or $1 on them and want to try their luck.
According to Rice, without the added revenue from pull tabs he would likely have to let go of employees.
"They probably pay for at least one or two [employees]," Rice said.
For several local groups, offering gambling options serves as another way to bring in additional revenue. Sam Hays with the Veterans of Foreign Wars Sunnyside Post #3482 said pull tabs play an important part of things for the local organization.
According to Hays, at any given time on a busy night there will be anywhere from one to 10 people trying their luck at pull tabs. He noted that most people will play $1 to $5 worth of pull tabs at a time.
Betty Johns with the local Eagles lodge said pull tabs and bingo are the two things that make up the lodge's second largest source of revenue, with the organization's Friday night dinners being the group's first source of income.
Johns said on a busy night, like at the VFW, there will be people playing anywhere from $1 to $5 worth of pull tabs at a time, with most winners taking home $50 to $60.
Johns said the Eagles currently offer five pull tab games in the bar area, and another pull tab game that is brought out on Wednesday nights for bingo.
According to Johns, approximately 20 people regularly attend the lodge's Wednesday night bingo event, which was just restarted last year.
Although gambling brings a lot of revenue into the state, according to the Washington State Council on Problem Gambling, approximately 5 percent of adults in Washington are either problem or pathological gamblers.
Dr. Stephen A. Younker, a licensed psychologist with the Center for Counseling and Psychotherapy in Yakima, said problem gambling is a very secretive disease, and a disease he has seen become more prevalent in the Yakima Valley over the past 14 years.
Younker said with the availability of gambling options increasing in the area, the number of problem gamblers also tends to increase.
According to Younker, although problem gambling has been on the rise in the area, it doesn't mean that all gamblers are problem or pathological gamblers. He said in a study done six years ago, it was discovered that 5 to 7 percent of people who gamble have a problem.
However, he said anyone who feels they might be a problem gambler or know someone who might be dealing with the disease needs to be screened to be properly diagnosed. Younker said those who think they might have a problem need to ask themselves several questions, including whether they are pre-occupied with gambling, if they are not sure where there money is going and if they find themselves gambling when they are under stress.
For more information on problem gambling contact the Washington State Problem Gambling Helpline at 1-800-547-6133.