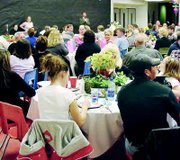 GRANDVIEW - Nearly 200 people attended the Grandview Chamber of Commerce's annual fund-raising dinner and auction this past Friday night.
The auction alone raised $6,289 for the chamber group, according to treasurer Elizabeth Jimenez. She said the final count from dinner ticket sales will be available later today.
The auction featured more than 90 items, which were available through both a silent and a live auction.
Grandview Chamber of Commerce President Jim Herriman was pleased with the results of the auction. He said it was good to see so many people come out and support their local chamber group.
He said the chamber's motto for this year is "Do More in 2004." With the support of the community it will be possible, he said.
The chamber was also supported by the Grandview High School DECA club, which served food as a service to the business community.