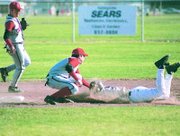 There is a certain beauty to the sport of baseball that can be found elsewhere. There is hardly any other sport that momentum can turn on a dime.
Take Friday afternoon's home opener against 2A Rochester. Down in the final inning by a couple of runs, the Grizzlies turned the fortunes off the bat of Michael Johnson, who blasted a two-run home run to give Sunnyside a 5-3 victory.
The following afternoon the Grizzlies didn't quite have as much to get excited about. An off day from Sunnyside's pitching staff led to a 12-1 loss to 3A Bellingham.
Friday, after plating a pair of runs in the top of the first and another in the third, Rochester looked as if it was going to get out of Sunnyside with a victory. But the Grizzlies found their groove late in the game.
In the bottom of the sixth, Jessie Ramirez led off with a single. Then with one out, Micah Zakahi laced a shot to put runners at first and second base. Nathan Anderson followed, ripping a double to plate Ramirez and Zakahi.
Sunnyside then put together a game-winning rally in the bottom of the seventh. With one out, Chris Newberry walked. Then on a 2-2 count, Newberry stole second as R.J. Elizondo ripped a shot up the middle. Newberry made it safely to second as the only play Rochester had was at first base. Ramirez then laced a singled to score Newberry. With the score tied at 3-3, Johnson got a bead on a fast ball and crushed it to left field, scoring the game-winning runs.
Elizondo worked five innings for Sunnyside on the mound, giving up eight hits. Derek Uberuaga (2-0) picked up his second win of the season in two innings of work, fanning three Rochester batters. Sunnyside Coach Dave Martinez said a key for his pitchers was that they gave up only one walk.
"Our pitchers did a really good job," said Martinez.
Martinez also thought Sunnyside swung the bats well, getting nine hits. Uberuaga went 3-for-3 at the plate with a double in the fifth. Newberry was 1-for-1 with a pair of walks.
Martinez said Friday's victory showed how tough his team is capable of playing.
Saturday was a bit of different story against Bellingham. Martinez said Bellingham, which entered Saturday's game fresh off an 8-5 loss to West Valley, didn't have two of its better players when it went against the Rams on Friday. Bellingham also gave up five unearned runs against West Valley.
Bellingham came loaded Saturday with one of its aces, Tim Sellertie, who didn't play against West Valley, working the mound.
"They (Bellingham) are a really good team," said Martinez. "We would like to play them again. It wasn't our day to play them."
Sunnyside's only run came in the bottom of the first when Johnson, who had doubled, scored off a single from Zakahi.
The big inning for Bellingham was a five-run fourth frame.
Sunnyside (0-0, 2-1) has another non-league game this Friday at home against East Valley. The Grizzlies then travel to East Valley on Saturday to play White River.