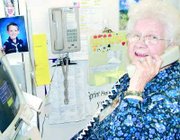 Her sweet "Good Morning, Sunnyside Community Hospital This is Mabel, How can I help you" greeting will no longer be heard when people call the local hospital.
After 29 years of working at the local medical facility, Mabel Kluth of Sunnyside is hanging up her headset and taking a well deserved retirement.
Kluth, who just two weeks ago was honored as one of two Sunnyside Chamber of Commerce Outstanding Senior Citizen Award winners, announced recently her intention to retire. "I was surprised by the honor," she said. "I was only expecting to go to dinner with my boss, (Ed Smolak)," she smiled.
"I didn't know where we were going for dinner, but it was a lovely surprise," she said of winning the award.
Wednesday, March 24, marks her last day of active employment at the hospital, which she has called her place of employment since 1975, according to Tom Lathen, Sunnyside Community Hospital director of community relations and physician recruitment.
"Her friendly smile and warm voice has given thousands of visitors reassurance upon entering the hospital for visits or on business," he said.
"She always seems to know how to track down hospital employees and patients, while maintaining a calm demeanor," said Lathen.
"We'll miss her at the front desk," he said.
Kluth's engaging personality has served her well, both as a credit manager in the hospital business office and as the reassuring voice on the line when families call to check on family members being treated at the hospital.
Kluth entered the work force in the mid-1950s as a matter of family necessity. When her husband, Walter, became ill and with three young children to care for, she went to work. Her first job was with Sunnyside's credit bureau. Later when she decided to try her hand working at the hospital, she barely made it home from her interview when the call came asking her to be at work the next morning.
Kluth's long-time relationship with the hospital went beyond her duties in the business office, to serving as a member of the hospital auxiliary, where she held a variety of offices.
She worked in the hospital business office, a place where until 1992 she also worked admitting and as the receptionist.
"It was a multi-talented position," she smiled.
She began working the switchboard full-time in 1992, a spot where she put in 40 hours a week.
"Her cheerful personality and engaging voice are the first point of contact in the hospital lobby," said Lathen.
In addition to her work at the hospital, Kluth volunteers with the Lower Valley Community Concert Association of which she has been a long-time member. She is also a charter member of Sunnyside's Our Saviour's Lutheran Church and a lifetime member of the Sunnyside Pioneer Association. She is also a charter member of Yakima Valley Credit Professionals.
A giving and caring woman, she now hopes to spent more time visiting her children, grandchildren and great-grandchildren. But first she is making plans to what she'd like to do in her retirement.
While she doesn't spend much time on hobbies any more, travel may play a big part in her future plans.
"We're talking about taking a cruise to the Inland Passage," Kluth said. "I think that would be a wonderful experience," she said.