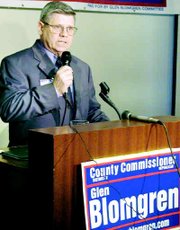 YAKIMA - With 224 days left until election day, 58-year-old Glen Blomgren announced Monday his intentions to throw his hat into the ring for Yakima County Commissioner seat #2, which is currently held by Ron Gamache of Toppenish.
A life-long Washingtonian, Blomgren announced he is running because he feels changes need to be made in the way county government is handled.
"First, we need to get rid of burdensome regulations," said Blomgren, a Republican. "Second, we need to enable progress and business expansion, rather than oppose it or hinder it. Third, the county commissioners need to pay attention to the county's business, do their due diligence, and make sure they have all the facts before they spend the taxpayers' money."
The founder and chief executive officer of Christa McAuliffe Academy, a nation-wide K-12 on-line school based in Yakima, Blomgren said he feels he has the right combination of experience, knowledge and personal traits to bring people together and find solutions for the county's current problems. He explained that if elected, he intends to research issues and apply sound business principles to every decision made affecting the county.
Blomgren said he feels the current county commissioners rely too heavily on staff and consultants to make decisions. He feels as county commissioner it would be his duty to make decisions to best serve the county and its residents.
His approach to county government is one of empowerment. He said he wants to be able to give the people the tools and opportunities to participate in local government.
One of the ways, he said, is by being a visible presence in the community. He explained that anytime there is an event he will be there.
Blomgren said his campaign will reach out to residents in a different way, with a website that will have citizen polls on the issues, as well as areas for opinions and citizen to citizen discussions on ways to better serve the county. His plan is to maintain the website for further community input after elected.
One of the areas Blomgren hopes to focus on is encouraging both public and private investment into infrastructure needed for high-tech and manufacturing businesses to relocate to Yakima County.
A native of Chewelah, Blomgren moved to the Yakima Valley to attend Yakima Valley College, before transferring to Washington State University and later to Eastern Washington University, where he graduated with a Bachelor's degree in education.
Blomgren joined the Army National Guard in 1966 and then two years later transferred to the Air National Guard, where he served until 1995. He and his wife, Julia, have nine grown children.
If elected, Blomgren added, his wife and son would take over day to day operations of the school he founded while he focuses his attention to full-time county service.