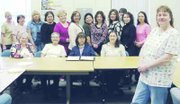 Lower Valley state employees are congratulating themselves for an outstanding charitable fund-raising effort designed to help many of the same people who receive services through the local office of the Department of Social and Health Services (DSHS).
The DSHS Sunnyside community service office's combined fund drive, headed by state financial worker June Sanderson, helped to contribute to the largest state campaign in the state's history.
"I'm not exactly sure how much we raised in our office, but I know we helped to add to the more than $5 million raised for charities statewide," said Sanderson.
She said her office of more than 40 employees held fund-raisers to add to the individual payroll pledges made by her co-workers.
According to a state Combined Fund Drive report, Yakima County DSHS employees contributed a total of $31,349 for the charities of their choice.
"We're allowed to name which charities we want our contributions to support," explained Sanderson.
She said the charities include everything from drug prevention programs to disaster relief, as well as boys and girls clubs
"We were all excited to hear how well the campaign did statewide," she said.
"We had a fantastic campaign," agreed Rey Pascua, who serves as the fund-raising drive chairman for Yakima County's state employees.
"We raised in excess of $87,200 in Yakima County," said Pascua of the state 2003 campaign, which ended last October.
The generous amount of charitable giving rated an additional distinction for Washington's more than 100,000 state employees, according to Tim Welch of the state Federation of State Employees.
"Washington state ranked in the top five nationwide for having the most generous state employees in the country," he said.
Welch said the state's combined fund drive is operated much like the more widely known United Way campaign.
State employees make monthly payroll deductions which they are allowed to earmark for charities of their choice, Welch explained.
Welch feels the increase in state employees' charity giving was based on a number of factors.
"We deal directly with those families that are in need of so many of the state's social services, services which have faced cuts due to the state's shrinking budget in the past year," Welch explained.
"They realize there aren't as many state services available to the needy as there once was, especially for the elderly, disabled and unfortunately for children," he added. The private sector charities are being forced to pick up the gaps in providing needed services.
Also aiding with generating funds for the private sector social services is the Yakima County United Way 2003 campaign, which is now in its final stages. The county fund-raising campaign is expected to add more than $2.1 million from the private sector, according to John Warren of the Yakima County United Way Campaign.
"We are still in the process of wrapping up our campaign," he said. "But it is exciting to hear how well the state combined fund drive has done," Warren said.
He said the local United Way campaign, which in Sunnyside is chaired by Richard Strain, is expected to be completed by mid-April.
"We recently received a sizable corporate donation from Pacific Corp., in the amount of $25,000. The company's donation is a great step toward meeting our county goal," Warren added.
He said this year, more people seem to be willing to give a bit more for others.
"We aren't giving to the unknown needy, Warren said. "Now we know those who have lost their jobs or faced disasters of all types and are in need of our help," Warren said.
"People continue to be generous even if they are also being affected by dips in the local economy," he added.