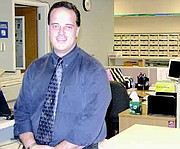 Some might say things haven't turned out too badly for Pioneer Elementary School second grade teacher Shawn Thurman. Especially when you consider he didn't even have an idea what he wanted to do after graduating high school.
When he was younger, though, Thurman did give considerable thought to being a professional fisherman.
Thurman, 27, is a 1994 graduate of Grandview High School. Immediately upon graduating high school, Thurman said he really had no idea what he wanted to study in college. Thurman said he wanted to go to college, but he didn't want to waste classes while deciding what career path to pursue.
Thurman ended up seeing the divine light as to what career he wanted to pursue thanks to his mother-in-law, who is a para-professional at Chief Kamiakin Elementary School. Thurman started volunteering and then was hired as a para-professional for a first grade classroom and knew from that moment on what he wanted to do.
"I swore I would never teach anything above sixth grade," said Thurman.
Thurman graduated in 2000 with a Bachelor's degree in education and soon after was hired for his first teaching job at Sunnyside's Washington Elementary School. Thurman spent a couple of years teaching at Washington and then moved over to Pioneer during the 2002-03 school year, teaching kindergarten and second grade. Thurman also works in the same school as his wife, Kristy, who is a first grade teacher. In addition to his teaching duties, Thurman oversees the 21st Century after-school program at Pioneer.
Thurman is currently finishing work for his Master's degree in school administration through Heritage College and is expected to have that completed by the end of this school year.
"Hopefully, next year I will be a principal," said Thurman.
One of the best parts of his job as a teacher is being around the young children.
"They truly care," said Thurman. "They make me feel younger."
The most difficult part of being a teacher for Thurman is seeing when the small children get injured.
"I hate seeing the kids get hurt," said Thurman. "When it does happen, it gets to you."
When teaching, Thurman tries to take advantage of the competitive nature of children.
"I have high expectations for them," said Thurman. "That way, you push them, you challenge them to do better. Kids are very competitive. They want to please."
Another teaching method Thurman uses with students is being interactive.
"You have to keep the kids engaged," said Thurman. "You have to make the learning fun and have it be enjoyable for them."
One of the reasons Thurman wants to enter admininstration is he hopes to be able to do more for students.
"I feel I could impact more students than just 20 a year," said Thurman. "I love helping people."
In his spare time, Thurman has taken up the sport of golfing.
"Before I started to play I thought this wasn't going to be a sport for me," said Thurman. "But it is challenging."
Thurman also enjoys spending time with his family. Despite working with his wife, Thurman said he doesn't see her all that often. Thurman said he doesn't get to spend any real time with his wife until he gets home at night, where he also enjoys spending time with his dogs.
Teaching is about the best job anyone can have, said Thurman. He said the most rewarding part of the job is when children get that light bulb going off over their heads.
"It is the best feeling. You celebrate," said Thurman.
He said it is a total celebration because all your hard work as a teacher paid off.
"I wouldn't say this is a job," Thurman added. "To me a job is work. This isn't work."