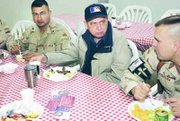 IRAQ - While on a five-day trip to see first-hand how American troops are faring in Iraq, Congressman Doc Hastings came face-to-face with a young man whom he had aided in becoming an officer.
Hastings had the opportunity to chat with Steve Ayre, formerly of Finley, whom Hastings had given an appointment to attend the U.S. Air Force Academy in 1996.
"He didn't know who he was to be transporting, but he recognized me and took time to re-introduce himself to me," Hastings said.
"It just goes to prove that we are living in a small world," said Hastings.
Hastings was in the Middle East last week to visit with U.S. troops, tour military operations and to see for himself how the Iraqi rebuilding effort is progressing.
The 4th District lawmaker said he had the opportunity to meet and share meals with the troops, many of whom have been stationed in Iraq for the past year.
"We arrived in Bagdad in time to mark the first anniversary of start of the war in Iraq," Hastings said.
"What impressed me most was the high morale of the troops," he said.
Hastings, who was among those who voted to fight the war on terrorism, said he felt a personal obligation to see first-hand how the troops were doing.
"I wanted to get a pulse on the situation," he said, saying he was pleased with the American troops' attitudes. He said their positive morale has renewed his commitment to provide the troops with whatever they need while stationed overseas.
He also met with the commanders of the Combined Joint Task Force and other senior level U.S. officials regarding the current military operations.
"We also met with members of the provisional Iraqi government, who are preparing for a constitutional election June 30," Hastings said.
He said the Iraqi leaders seemed optimistic they will be able to to govern themselves.
"It's a difficult task they have ahead of them," Hastings noted.
"Even though they have lived under a brutal dictatorship for the past quarter of a century, they are optimistic they can make a new government work," he said.
Hastings said the new Iraqi government has a great potential for making a healthy comeback.
"We noticed an extensive system of canals in the region. I believe if the new government allows its farmers to produce, Iraq could become the bread basket of the Middle East," Hastings said.
Hastings, who was part of a six-person Congressional delegation to Iraq, also visited Jordan, Kuwait City and the military hospital in Ramstein, Germany, where injured American troops are being treated.