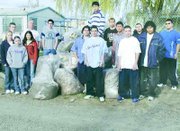 MABTON - When Focus High School Principal Stephen Busby received a phone call around 5 p.m. last Friday afternoon he was on his way out of the office for the weekend.
But, learning that a former Focus High School student's mother was undergoing cancer treatment in Seattle, he decided helping the woman would be a good project for his students to undertake.
This past Monday and Tuesday most of the students of Focus High School raked leaves, swept the driveway, pruned bushes and installed fence posts in a children's play area at the woman's home. Garbage, sticks and weeds were also collected and bagged for removal.
Busby said a neighbor of the cancer patient let him know about the treatment the woman was undergoing.
"He has always been a great supporter of our school and his neighbor lady is the mother of one of our former students, Laura Rangel," said Busby.
"Out of respect for the family and support, we chose to clean up around her home and give her something to lift her spirits," he added.
Community service is a big part of education at Focus High School.
"A main part of success taught here is giving back to the system," said Busby.
His students, who range from seventh through 12 graders, each received a community service award from the Yakima Youth Coalition last year, he said.
Staff from five different school districts have been sent to Focus to learn the method of alternative education that has been successful in Mabton, he added.