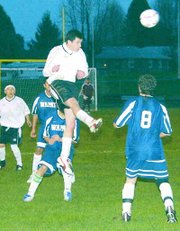 GRANDVIEW - A hat trick from Pedro Cesar Alvarez helped lead the Grandview High School boys soccer team to its second Mid-Valley League win of the season.
Alvarez scored three goals in the second half, as Grandview blanked Mid-Valley League rival Wapato 4-0.
Grandview scored its first goal of the game at the 19th minute. Rigoberto Guerrero scored off an assist from Kevin Glasenapp.
Alvarez scored the first of his three goals at the 66th minute and then followed with another goal at the 70th minute. Both goals were assisted by teammate Fernando Aguilar. Alvarez's final goal was at the 75th minute off an assist by Jesus Soto.
Grandview Coach Anne Holden said it was nice to get those extra goals in the second half because it allowed her team to feel more comfortable and attempt other schemes in the game.
Holden said Alvarez is quite the player. She said he has a lot of speed.
Grandview outshot Wapato 15 to 5 on goal. Greyhound keeper Juan Pacheco had five saves in the box. Pacheco had a remarkable save in the first half as Wapato was threatening.
Holden said it was a good all-around performance by her team. She said her players dominated the 50-50 balls and kept Wapato on its toes throughout the game.
She also credits the play of her midfield with making things happen in the game. Holden added she was especially pleased with the spacing of her players and the way they moved the ball in the difficult conditions.
"Our decisions were very good last night," said Holden.
Grandview (2-1, 2-2) plays at home against Prosser in a league game this Saturday.