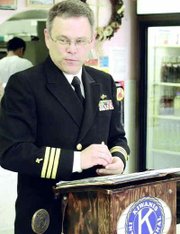 Returning from Kuwait, Sunnyside United Methodist Church Pastor Randy Quinn spoke to members of the Sunnyside Kiwanis Club Thursday about his two-week visit to civilian sailors who are part of the Military Sealift Command.
"I am the only chaplain for the Military Sealift Command on the West Coast," said Quinn.
A naval reserve chaplain, one of 440 in the nation, Quinn provides comfort to those serving in different branches of the military that contract with the Navy. The reserve chaplaincy provides services not only to the Navy, but the Marines, Coast Guard Merchant Marines and Sealift Command, which are civilians that provide military transport to Iraq. He estimates that about half of his time with the Reserve Navy Chaplaincy has been with the Marine Corps.
Originally, Quinn was scheduled to attend two weeks of training with Sealift sailors in Hawaii this summer, but after talking with his commanding officer, he determined the real need was in the Middle East where troops and supplies are being sent.
Those who know their needs are the ones facing the unknown factors of war, he said.
"My job is to make sure they know how to reach me in their time of need," said Quinn, adding that he is also in charge of making sure the sailor's and military personnel's first amendment rights are protected. That protection includes finding religious resources from specific faith groups for those he serves.
"I find someone who can provide for their needs," he said.
Quinn explained that many of the men he serves seek council from those with similar faiths and it is his job to find those resources in times of need.
Chaplains also serve as council to commanding officers, he said.
Currently, those chaplains of Muslim faith are spending time advising military leaders in Iraq, said Quinn.
Most of Quinn's two weeks in Kuwait was within 100 yards of the pier where the Sealift Command ships were docked and unloading supplies. Because of new Kuwaiti rules, civilians aren't allowed off the ships while docked, so the people Quinn served were on boats the entire time they were in Kuwait.
Beyond the pier was a barricade with barbed wire.
"I felt like I was in prison for two weeks," said Quinn.
Quinn, who has been assigned to Military Sealift Command for three years, was able to visit sailors on 14 different boats while in Kuwait.
While in Kuwait, Quinn said he was able to accomplish getting military chaplains a mile from the pier at the "tent city" to visit the incoming Sealift ships as part of their regular rounds.
He explained that 2,000 military personnel are at the "tent city" for a year at a time, so the chaplains rotate through on a regular basis.
The chaplains didn't know that the Sealift ships were needing chaplaincy services while in Kuwait, Quinn said. This past Christmas the ships didn't have chaplains come and visit them.
Quinn feels his local congregation benefits from his service as a Navy Reserve Chaplain.
He is required to stay in top physical condition and has been trained in critical debriefing and is able to perform several marriage ceremonies sanctioned by the Navy.
Quinn was a member of the Navy for five years before becoming a reserve chaplain in 1985.