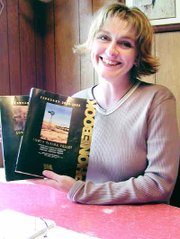 GRANDVIEW - It was just this past February that Teresa Kollmar and her husband used a gift certificate to Coeur d'Alene Resort, which she won for a photograph she took of an old, flooded barn that appeared on the cover of the 2003-04 phone book published by Hagadon Directories.
It seems Kollmar will be vacationing in Coeur d'Alene again.
She has won another gift certificate to Coeur d'Alene Resort, for $750, for yet another one of her photographs, which was selected to grace the cover of this year's directory. This year a photograph of an old windmill east of Bickleton was selected.
"We do a lot of weekend drives up there," said Kollmar. "We go and spend some time with the family and count how many deer we see or coyotes we see."
She added that her family also fishes in the hills south of their home in Grandview.
"I'm constantly looking for new pictures," she said.
Besides the cover of the phone book, a photograph Kollmar shot at the Prosser balloon rally will be printed in Photographer's Edge Inc., a catalogue that sells cardstock to photographers.
Kollmar started taking photographs of her children.
"With each kid I started taking more," she said, adding that she gets her artistic eye from her grandmother, Ardis Emery.
It wasn't until her sister was attending Perry Technical Institute in Yakima that Kollmar really became interested in take pictures other than family photos.
"I get a lot of enjoyment out of it," said Kollmar.
Although she doesn't have a photograph in mind, she is focusing on nature pictures this year.
She has been taking photographs of the birds feeding in her yard.
"I really enjoy taking wildlife type pictures," she said. "I keep striving to do something different."
The Grandview woman hasn't taken any classes on photography, but said she has a desire to learn more about photography and especially photo development.
Kollmar is the mother of three children. Her husband of 15 years is Kyle Kollmar.