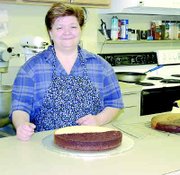 GRANDVIEW - When Grandview resident Laurie Charvet was still in middle school her parents, who both worked, set up a checking account for her and would put enough money in it for Charvet to do the grocery shopping and prepare dinner. That early bit of cooking responsibility is something that stuck with Charvet.
Charvet, the owner of Countryside Catering, said in 1988 she decided to turn back to her love of cooking to try and establish a business, something she could do from her home and still be able to watch her children.
Charvet said Countryside Catering started when she and her husband, Ernie, decided to build a commercial kitchen in their basement.
"We started very small," Charvet said.
She said when the business first got going she was cooking for everything from group meetings to small weddings.
"We did a lot of little things, a lot of cakes," she said.
Since starting her business in the basement nearly 16 years ago, Charvet has seen Countryside Catering slowly grow. She said seven years ago she and her husband purchased the house located in front of their Sunnyside-Mabton Road home. Charvet said the house was converted into a banquet facility that will seat 50 people, and also offers people a large outdoor space for gatherings.
Most recently, Charvet expanded her business again, creating another banquet facility in a Grandview storefront, located along West Second Street. The new location also features a commercial kitchen, although Charvet said she still does most of her cooking in her basement facility.
Charvet said she never had any formal training in the kitchen, and describes her style of food as "regular home cooking," noting that she goes through the same steps anyone cooking for their family would, just on a larger scale.
Charvet said she went into the catering business because she thought it would be a way to make a living on her own time.
"I went into it with the idea that I could do it when I wanted," she said. "It never really worked out that way."
She said her schedule changes daily, working early one day and late the next.
And things aren't about to slow down for Charvet. She said she is planning on expanding her business again in a few weeks, opening a small cafe on one side of her Grandview location. She said the cafe will be called "The Flour Shop," and will offer patrons another dining choice.