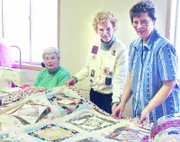 Ask Gay Roskamp about herself, and you'll be hard pressed to get much information.
Ask the friendly woman about her favorite project and she is very generous with praise for the women of the Sunnyside Christian Reformed Church's quilting circle.
Roskamp, who has lived in the United States since 1947, was recently honored as one of two Sunnyside Chamber of Commerce Outstanding Senior Citizen Award winners. Giving of herself to those in need has long been a way of life for the quiet mother of five.
But given the choice, Roskamp prefers to stay in the background, giving the limelight to her friends. She gives praise to her fellow dedicated seamstresses, women like Anne Haak, who does much of the machine quilting for many of the quilts, or to Karen Haak, who helps lay out the quilt squares used for the women's piles of warm and colorful quilts.
"It takes teamwork and each person contributes to the overall success of the project," she said. "And that is what this project is all about," Roskamp said.
For the past 30 years, Roskamp had been in charge of "Project Reach Out," a special group of nearly 20 women who work for three months each winter to make and distribute quilts for the needy in the Lower Valley and beyond.
This past winter, Roskamp and her fellow quilters, who meet each Monday and Tuesday at the Church fellowship hall room, made more than 150 quilts for others.
The quilts are made from donated scraps of fabrics, including everything from vintage materials to well worn denim. Each month the sewing circle also receives a donation of materials from the Sunnyside Wal-Mart store to aid in their charitable efforts. Project Reach Out quilters donate most of their quilts to the American Red Cross, local charities and to the Church's Disaster Relief programs.
"Some our prettier quilts are set aside to sell to fund some of our sewing needs," Roskamp said. Roskamp said each woman has her specialty in the assembly line sewing project. Some women cut squares, while others iron or tie the acres of coverlets.
"Each person is important to the project and is needed," she said.
Roskamp said in addition to the regular group that turns out at the hall on sewing day, Project Reach Out also has many behind the scene volunteers.
"We have a number of women who prefer to work at home on the quilts," she said.
Some cut quilt pieces for squares, others lay out the squares while still others add special decorations to the popular jeans quilts, Roskamp explained.
In addition to donating quilts for local programs, Project Reach Out workers have donated blankets to international disaster relief missions in Nigeria and other parts of the world.
Roskamp said the group's quilts are also used for fund-raising efforts for the Sunnyside Christian School Booster Club and Lower Valley Hospice.
The group culminate their three months of work by displaying finished quilts in the fellowship hall in the spring.
"We usually quit quilting about April 1," she said.
Anyone wishing to own one of the quilts may take one home for a donation, she said.
"All funds received are sent to a city in East Africa, where the funds provide for hunger relief, health care and other needs," she explained.
"We have been privileged to help many people," she said. "And, we can always use more willing hands."