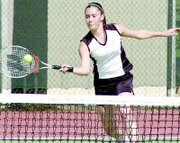 Both, the Sunnyside High School boys and girls tennis squads are still seeking their first victories of the season.
In Mid-Valley League play this past Saturday, Selah kept both squads winless via a pair of 3-2 victories.
On the boys side, the Plesha brothers were both victorious against Selah in singles play. The Vikings won the match, though, by sweeping all three doubles matches.
At No. 1 singles, Danny Plesha made short work of Selah's Joe Kohler, winning 6-0, 6-0.
"There weren't a lot of rallies," said Sunnyside Coach Troy Whittle.
Johnny Plesha, at No. 2 singles, also won handily against his Viking opponent, beating Thomas Gomez 6-1, 6-0. Whittle explained that Plesha exploited a weak back hand by Gomez to take control of the match.
Sunnyside's No. 1 doubles squad of Reid Schiperoort and Tony Cantu gave Jason Sutton and Chad Womack all they could handle in the opening set, barely losing by a 7-5 mark. Sutton and Womack rallied back strong in the second set, though, winning 6-3 to post the victory. Whittle said Schilperoort and Cantu struggled with their consistency on Saturday.
"It was either a winner for them or a forced error," Whittle said, explaining the lack of any sustained rallies in the match.
In No. 2 doubles play, Selah's Eric Jesperson and Sean Burmeister posted a 6-2, 6-1 victory over Mark Uribe and Jonathon Beals. Uribe and Beals were playing together for the first time.
"There was some trouble there with the communication," Whittle said of Uribe and Beals' play.
Selah's Josh Surratt and Josh Burwell secured the team victory for the Vikings in No. 3 doubles play, defeating Jacob Barr and Jake Wavrin by a 6-4, 6-4 margin.
On the girls courts Saturday, Selah also prevailed by a 3-2 margin. The turning point of the match might have been in No. 1 doubles play.
Andrea Phillips and Delores Gomez of Sunnyside had rallied back from a 6-1 loss in the opening set to defeat Megan Martin and Lindsey Hagler 6-4 in the second set. In the tiebreaker set, Phillips and Gomez apparently lost track of the score and Selah ended up with an extra win.
"The set should have been tied 5-5," said Whittle, "But there was a scoring error and the two Selah players ended up winning the set 6-4.
"It's water under the bridge now," Whittle continued. "But it's unfortunate, because Andrea and Delores gave their hearts in that match."
Sunnyside's two other girls doubles squads accounted for the two team points the Lady Grizzlies scored against Selah.
In No. 2 doubles play, Erica Mendez and Jerika Martinez prevailed 6-2, 6-1 over Selah's Emily Pratt and Aly Kote. Whittle said Mendez and Martinez were a model of consistency, adding that the two worked on their games last summer in an effort to improve.
"That hard work is paying off for them now," Whittle said.
Lana Pangle and Victoria Garza were also victorious for Sunnyside, winning the No. 3 doubles match 6-7 (2-7), 6-2, 7-5 over Marquie Strobel and Shannon Thorp. Whittle said Pangle and Garza cleaned up their mistakes from the first set loss and rallied back nicely against the Viking duo.
In No. 1 singles play for the Lady Grizzlies, Deann Trautman lost a 6-1, 6-1 match to Selah's Brianna Berg. Despite sustaining the loss, Whittle said Trautman played some competitive points against her opponent.
Jessica Gudino also fell to her Selah opponent, Jennylyn Aganda, in No. 2 singles play. Aganda won by a 6-2, 6-4 margin. Whittle said Gudino, who was called up to the varsity Saturday because of a shortage of players, played well against Aganda.