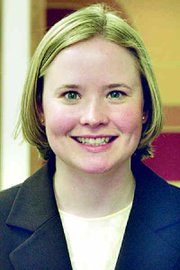 When Jennifer Allen was a senior in high school she wrote a paper on how she wanted to be an administrator in education. Allen, who still has the very paper she wrote, didn't have to wait all that long to fulfill the very words she wrote about less than a decade ago.
The Sunnyside School Board last week formally approved the hiring of Allen as the new assistant principal at Pioneer Elementary School.
Allen, 25, will replace Kris Diddens, who will take over as principal at Pioneer for the retiring Stan Davis. Diddens is the current assistant principal at Pioneer and she will be taking over the top spot at the end of the school year.
Allen was one of 25 applicants, said Diddens.
"The pool (of candidates) was really strong," said Diddens. "Jennifer rose to the top."
Diddens said she very impressed with the performance of Allen during the interview process. The initial pool of 25 applicants was narrowed down to eight. The remaining applicants then went through a three-hour interview process. Based on those findings, the application pool was narrowed to four. Those four then came back and went through an interview process with district administrators, including Superintendent Dr. Rick Cole. The four applicants also went through the Ventures interview process, which every administrator in the school district has had to do, said Diddens. The Ventures interview is done by an interviewer asking questions that were asked of top notch administrators throughout the country. The applicants' answers are compared to those of the prized administrators. The information was then compiled from the interview process with Allen being hired as the new assistant principal.
Diddens said some of Allen's duties as assistant principal will be improving the parental involvement at Pioneer. She will also be working with special education and will help oversee disciplinary issues.
"We have really big shoes to fill with Stan leaving," said Diddens. "I think we found the right person."
Allen has quite a resume for not being in education all that long. Allen is currently teaching third grade in the Snoqualmie Valley School District. Allen grew up in Puyallup, graduating in 1997 from Rogers High School. As a result of being in the Running Start program, Allen was able to graduate in 2000 from Washington State University with a Bachelor of Science degree in psychology. In 2001, Allen obtained a Master's degree in teaching from Whitworth College. Allen will have by this June her principal's credentials from Seattle Pacific University.
In 2001, as part of obtaining her Master's degree, Allen had the opportunity to teach at the International School of Paris in France for a month. While in Paris, Allen had an opportunity to work with students from all over the country.
"It was so much fun," smiled Allen. "It was hard to leave Paris."
Allen also can boast of work she has done in shelters with victims of violence while attending WSU. Allen also has experience in working with children who have autism.
One of Allen's most prized accomplishments just might be the black belt she holds in Tae-Kwon-Do.
Allen and her husband, Dave, who is planning to become an accountant, currently have no children, accept for an African gray parrot and a "spoiled cat."
Working with children has always been a goal of Allen.
"From a very young age, I knew I wanted to work with kids," said Allen.
At her current school, Allen takes a leadership role with the staff. One of the areas Allen is looking forward to being involved in at Pioneer is staff development.
"As a teacher my biggest passion is literacy," said Allen.
Working with elementary school children is something else Allen has always enjoyed.
"I love their excitement about learning," said Allen. "So many things are brand new to them."
Allen said she is impressed with some of the reading programs implemented in Sunnyside.
"They are doing some wonderful things here for kids," said Allen. "I am so excited to be part of that."
Allen found the job posting in Sunnyside on a website. Allen said she did a lot of research on Sunnyside.
"It looked like a great community," said Allen. "I am just thrilled to be here. I am really excited to move in and get the opportunity to know everyone."
Allen won't have to wait long to assume her new administrative duties. Her last day of work teaching third grade will be June 25. She will start work at Pioneer on July 1.