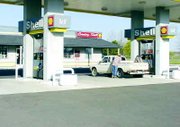 Toshi and Pilrang Owa of Everett have reopened the Country Shell station on Yakima Valley Highway, re-naming the convenience store Country Foods USA.
"We opened about three weeks ago" said the first-time gas station store owner.
While no stranger to business, Owa and his wife haven't worked in gas stations or quick markets before. He is a retired exporter, having spent most of his career supplying meat to restaurants all over the world.
The couple became familiar with the Lower Valley area recently when they purchased the former Dalke RV park, located next to the former Moose Lodge on Scoon Road in Sunnyside.
"We like this area, and expect to move here in the future," Owa said.
"As we get to know the area we are finding the people friendly and living very relaxed," he said.
The store will offer a variety of fast foods, snacks and picnicking items. "We plan to cater to the families who use the Sunny View Park and will have sporting programs broadcast over our television system," he said.
Owa is now seeking a license to sell beer and wine at the store, located midway between Sunnyside and Grandview on Yakima Valley Highway.
Country Store USA will be open 6 a.m. to 9 p.m., seven days a week.
"We're planning a grand opening about April 15," Owa added.