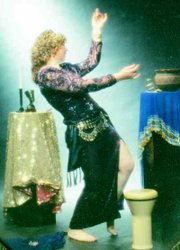 GRANGER - What started off as a way to get back in shape after having a Cesarean section, has turned into a way of life for Granger resident Susan Lewis, who is a student and teacher of Middle Eastern dance.
Lewis said she first became interested in the intricate dance after having her second c-section.
"I wanted to get some tummy muscles back," she said.
Lewis explained that having been a music major in college, and having taken tap and ballet classes, as well as having been a synchronized swimmer, she felt that dancing would be a good way to regain those muscles.
However, it didn't take long for the dance to become more than a way to work out for Lewis. She said the hand movements of the dance, as well as the interconnection she felt between the soul and the body, filled a need in her life.
"It was an expressive outlet," she said. "I just fell in love with it."
Lewis said after taking her first few classes, she instantly started seeking out other learning avenues.
"I went to all the seminars I could," she said.
While she was learning all about what would ultimately become her trade, she moved out of Washington and then, later back to the Yakima Valley. It was when she arrived back in the Lower Valley that Lewis started a Middle Eastern dance troupe with a friend from Issaquah.
Lewis said over the years she has danced at a variety of different events, from birthdays to restaurant gatherings. Lewis has also served as a Middle Eastern dance instructor at Yakima Valley Community College, where she taught until last June.
Over the years, Lewis said she has seen her circle of dance friends grow to include past students, as well as her daughter. She said when her daughter went to college she became interested in Middle Eastern dancing, as well, forming her own troupe at school.
Lewis said anyone can learn to do Middle Eastern dance, which involves isolating different muscles and moving certain parts of your body, such as the hips, independently. She said she has had people as young as six, and people over the age of 80 in her classes.
"No matter what size or shape you are, you can do this dance," she said.
Lewis explained that Middle Eastern dance has its roots in being a sisterly activity. She explained that harems didn't dance for the sultan, instead they were dancing for each other.
"That's what the harem was really about," she said.
Lewis explained that it's this sisterly bond, as well as the spirituality of the dance, that has helped her overcome tragedy in her life over the years.
She said when one of her relatives passed away, she was able to find solace in her dance steps. She said she found that planting her feet on the ground and doing hip rolls was almost like therapy.
"Dance became that grounding thing for me," she said.
Lewis specializes in a certain type of Middle Eastern dance, doing mostly classical style Egyptian cabaret. She explained that this particular sub-specialty of Middle Eastern dance is very refined, requiring a lot of muscle isolation and requiring more time on your toes.
"To me it's tasteful and elegant," she said.
Lewis said she learned classical style Egyptian cabaret dancing from her first teacher, and although she has learned other styles of dance, it has always been her first love.
"It was wonderful to see the other styles of dancing," she said. "But to me that style was very classical."
When Lewis does dance, she does so under the name Maiyah. She explained that after a certain amount of time most dancers will choose a name to dance under, which helps them transform themselves into the world of Middle Eastern dance.
Lewis said she chose her name after careful consideration. She explained that Maiyah is the name of a particular dance movement and it means essence.
"I had internalized Middle Eastern dance as part of my essence," Lewis said, explaining how she came to realize that Maiyah was the right name for her.
Lewis said Middle Eastern dancing is something she will be doing for the rest of her life.
"I will be dancing until I go into the grave," she said.
Lewis said she is currently looking for a venue where she could hold classes on Middle Eastern dance.
"It's so unlimiting," she said of the dance style. "It's just a natural joyous expression."