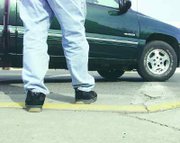 Sunnyside Police Captain Phil Schenck has one message for motorists. If a pedestrian has one foot, one toe, one heel or any inch of their body in a crosswalk, then you as a driver better wait your turn. If a driver doesn't allow a pedestrian to cross the street unobstructed, it could cost them $101.
Schenck is looking to head off a problem that has been occurring every year in Sunnyside with motorists not allowing people to cross streets.
"Every year, we have a few kids that are seriously injured by vehicles," said Schenck.
Starting this Wednesday, the police department will begin an enforcement operation to catch drivers who don't allow a pedestrian their right to cross the street freely. The fine for drivers cited by the police department will be $101.
While there hasn't been a significant increase in vehicle related injuries to pedestrians, Schenck has seen an increase with drivers who are simply too impatient to wait for someone to cross the street. Schenck said last weekend, he witnessed one occasion where a person drove their car around a child who was pushing her bicycle across the street.
"That has got to stop," said Schenck. "People are just too impatient. They are in a hurry."
Schenck said he is looking to stop a possible accident before it happens with the upcoming enforcement. The police captain said he is especially worried about children who cross the street and drivers who fail to yield the crosswalk to them.
During the enforcement period, Schenck said he has instructed his officers to pull over any drivers who violate a person's right from crossing the street freely. This means, said Schenck, that if a pedestrian has even the slightest part of their body off the sidewalk and into the crosswalk a driver better use caution and wait to proceed.
"They need to yield to the person in the crosswalk," said Schenck. "We need to slow down, especially for young people."
The police department will be picking areas throughout town, said Schenck, to conduct the operation. Schenck said the enforcement period will be throughout the day and not just during school hours.