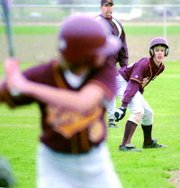 It was simply an all-around solid game for the Sunnyside Christian High School baseball team yesterday.
The varsity Knights pounded Zillah's junior varsity squad Tuesday afternoon, winning 13-3.
Lucas Kilian picked up his second win of the season on the mound for Sunnyside Christian. Kilian went three innings, striking out two Zillah batters. Kilian did walk five and allow three hits. Jake Bosma had a nice stint in relief for the Knights, fanning three batters in two innings of work.
Zillah plated lone runs in the second, third and fourth innings.
The Knights took an early lead with a four-run showing in the bottom of the first inning. Kilian started the frame with a single and then stole second. Chad Den Boer brought in Kilian with a triple. Cole Van de Graaf then put up a sacrifice fly to plate Den Boer. John Bosma ripped a single to plate Jake Bosma, who had moved to second after his single earlier in the inning. Matt Haak accounted for the final run when teammate Justin Burgers singled.
Sunnyside Christian then plated nine runs in the second inning. Den Boer had a two-run home run in the game.
The Knights had 15 hits in the game, including a 3-for-4 effort from Kilian, who also had a double in the second inning. Den Boer, Jake Bosma, John Bosma and Haak were all 2-for-3 at the plate.
"It seemed like we were hitting and making contact on everything," said Sunnyside Christian Coach Kevin Fennell. "We had a pretty solid outing from our pitchers, which helped."
The Knights (4-0, 7-1) are off till April 13 when they play Glenwood/Trout Lake in a doubleheader.