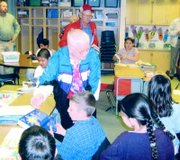 MABTON - Across the state Grange members are going into the classrooms and giving students an educational resource as part of a project known as "Words for Thirds."
Members of local Grange halls are giving third grade students a dictionary of their own as a part of the state-wide five-year project.
One of the Granges participating in the "Words for Thirds" program is the Wanita Grange located on Mabton-Sunnyside Highway.
According to Bettie Baser, the Grange's secretary, 90 student dictionaries were given to third graders at Artz-Fox Elementary School, the school closest to their hall. Other Granges around the Lower Valley are raising money and providing dictionaries to students in communities near their Grange.
Each Grange is using funds raised throughout the year to purchase the dictionaries for the students. Baser said that the dictionaries given to the students are theirs to keep.
"The students can take them home, it's theirs, not the schools," said Baser. "The kids were really very enthused that we took the dictionaries to them," said Baser.
The dictionaries were hand-delivered to the students last week.
The Granges are teaming up with "The Dictionary Project," a national non-profit group, with the goal of providing dictionaries for third grade students.
Organizers for "The Dictionary Project," as well as Grange members from around the state, believe that by giving away dictionaries, they can encourage reading and the development of problem solving that arise as a child develops reading, writing and creative thinking abilities. Baser said the books also provide each student with a reference book they can use while completing homework.
More like this story