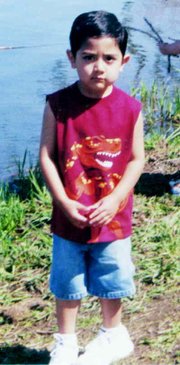 GRANDVIEW - 4-year-old "Lil Gibby" Orosco has a rough road ahead of him. The youngster has been diagnosed with neuroblastoma, a form of cancer.
To help the Orosco family with medical expenses, a car wash fund-raiser has been arranged for this coming Saturday, May 8, at the Grandview Market.
Gilbert Ysmael Orosco, 4, is the son of Grandview's Gilbert and Veronica Orosco. The tot is currently a patient at Children's Hospital in Seattle, where he faces an entire year of extensive chemo therapy and radiation treatment.
Friends of the Orosco family are encouraging Lower Valley residents to turn out for the 9 a.m. to 4 p.m. car wash this coming Saturday, where donations of any size will be accepted to help with expenses. Donations are also currently being accepted at Banner Bank.