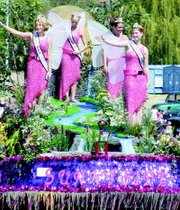 GRANGER - The sun was shining bright as the Granger Cherry Festival kicked off Saturday morning with a parade that included community floats, a local marching band and everything in between.
Taking home awards from the first parade of the season were the Harrah and Zillah community floats, with Harrah taking first place and the Mayor's Award in the population under 5,000 category. Zillah took second place in the same category. Service club winners were Tannewasha, which took first place in the category, and the Zillah Lions Club, which took second place. The first place winner in the commercial category was the entry from B&D Farms. In the category for community floats from towns with a population of more than 5,000, Grandview took first place and Wapato second. In the same category the Sunnyside float with its Midsummer's Night Dream theme was presented the Sweepstakes Award.
Besides hosting a colorful parade, the Cherry Festival also included plenty of activities in the park from carnival rides to different foods to try.
Across the street from the downtown park was the Cherry Festival Youth Art Show, which featured metal work, drawings and paintings by local youth.
In the pre-school through fourth grade category second grader Daniel Ramos took first place, first grader Norma Ramos took second place and kindergartner Graciela Maldonaldo took third. In the fifth through eighth grade category seventh grader Juan Rodriguez was awarded first place, eighth grader Andres Camacho took second and eighth grader Adilene Caballero took third. In the ninth through 12th grade category the duo of Vince Castro and Juan Quazada took first place, ninth grader Adrian Diaz took second and senior Nestor Quezada took third. The best of show winner was senior Eric Qumones, J. Padilla and Alex Zungia with their scrap metal creation "Dragon." The winner of the art show drawing was Jessie Marin