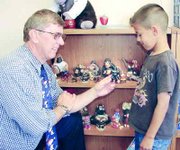 After 28 years of going to school, Stan Davis of Sunnyside is ready for a change of direction.
In June, the Sunnyside Pioneer Elementary School principal will turn in his keys and close the door of his principal office that has been his daily destination for nearly 18 of those 28 years.
Davis, who started his education career in the Prosser School District, started teaching fourth graders in Sunnyside 27 years ago.
"I only taught fourth grade for two years," he said.
It wasn't long before Davis realized he much preferred the classroom interaction with sixth graders. "I like that grade the best," he said.
"You can get sixth graders to do anything, if you let them think it's their idea," he grinned.
But being a classroom teacher wasn't the only area of education which interested the Indiana native. He began his move to administration in the early 1980s, serving his administrative internship under then Chief Kamiakin Elementary School Principal Kieth Miller, who retired a short time later.
In 1986 Davis settled into his new duties as the principal of Chief Kamiakin Elementary school, where sixth, fifth and fourth graders were greeted by his sunny smile each day for 10 years.
In 1995, Davis moved to the newly constructed Pioneer Elementary School, where he greeted a younger group of students. Pioneer is home to kindergarten through fourth grade students, but the friendly, daily greetings to students by "Mr. Davis" have remained the same.
His easy-going personality and rapport with the students, as well as the Pioneer Elementary School teaching and office staff, resulted in his recent nomination as one of two outstanding educators honored by the Sunnyside Chamber of Commerce this past March.
Davis said he was pleased to share the Chamber's Outstanding Educator Award with one of his favorite teachers, Rose Hall, a fourth grader teacher who also works at Pioneer Elementary.
"It was a shock when they announced my name and a great honor to be recognized by the Chamber and my staff," he said.
Now looking forward to a well deserved retirement, Davis said he won't be spending all of his time golfing, one of his favorite hobbies, or traveling.
"I expect I'll find something to keep me busy. I think I'm ready to try something different, some new career challenge," he said.
Accepting new challenges is has kept Davis interested in education all these years, he said.
"I love working with the teachers, the administration and of course the students.
"It's just now time for a change," he said.