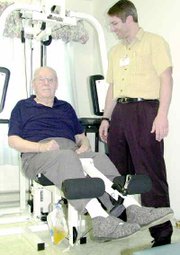 For the past several weeks Hillcrest Manor has been offering a new service to both its residents and people referred to the facility by the local hospital. Hillcrest Manor recently created a transitional care unit, which serves as a rehabilitation area for patients who need to gain strength to do everyday activities, including getting out of a wheelchair on their own.
Monica Thielen with Hillcrest Manor said the facility first started discussing the creation of a transitional care unit three or four months ago, during a discussion with representatives from Sunnyside Community Hospital.
Thielen said the facility already had its own gym, but felt a transitional care unit would be a good way to better meet the needs of the community.
Thielen said during the meeting they found there was a need for a transitional care unit, noting that people who were in need of this type of care in the past were forced to go to Yakima or Tri-Cities to a rehabilitation hospital.
"It no longer has to happen," Thielen said.
She said now people who need transitional care, such as people who injure themselves during a fall or people recovering from surgery, can receive that care at Hillcrest Manor. Thielen said the facility is equipped to handle short-term stays, meaning that people can come in and get the care they need and then be able to go back home after their treatment is complete.
Physical therapist Alan Boschker said a transitional care unit can also make it possible for people to have a higher functionality, noting receiving care can lead to a person being able to do things for themselves that they couldn't do before.
"It increases their sense of empowerment," Boschker said.
According to Dr. John Allen, the rehabilitation director at Hillcrest Manor, there are currently about 12 people who are receiving transitional care on a regular basis.
Thielen said before the transitional care unit could be completed new equipment had to be purchased. She said it took about a month and half to decide exactly what kind of equipment would best benefit the patients.
One of the new pieces of equipment in the transitional care unit is a high/low table, which is a padded table that can be automatically raised and lowered to different heights. Boschker explained that the table can be used to help people build their strength in order to get out of their wheelchairs under their own power. He said he will typically start working with a patient by having them repeatedly stand up from a seated position on the table, which helps build their leg muscles. He also utilizes a piece of equipment that simulates the arms of a wheel chair. It helps a patient build muscles in their arms during the exercises. Boschker explained that he starts people doing these exercises with the table up relatively high, then as they get stronger he lowers the table until it is at the same height as their wheelchair.
Thielen said overall the transitional care unit gives Hillcrest Manor something other facilities don't necessarily have. She said having a transitional care unit also gives people a chance to receive the services they need without living in a hospital-like setting.