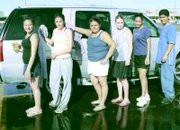 MABTON - The Miss Mabton Pageant will be held Friday, June 11, at the Mabton Jr./Sr. High School gym as a prelude to Mabton Community Days.
There are five high school girls seeking the title, according to Rachel Ruelas.
She said the pageant will be held in conjunction with Mabton Community Days, set for Saturday, June 12, with a parade and activities in the park.
The Mabton candidates held a car wash this past Friday to raise money for the pageant. They will be selling raffle tickets later this week, Ruelas said.
The candidates made their first public appearance in the Granger Cherry Festival Parade this past Saturday morning, she added. They also attended the royalty luncheon which followed the parade.
The candidates for Miss Mabton are Marissa Gonzalez, Tanya Franklin, Adrianna Cardenas, Erica Sanchez and Mayra Gutierrez.
This year in addition to the traditional Miss Mabton contest, three young men are seeking the title of Mr. Mabton. Candidates for the masculine court are Enrique Ruiz, Derek Gonzales and Adam Venecia.