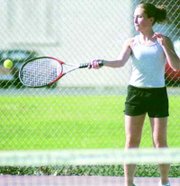 GRANDVIEW - The Sunnyside High School boys tennis team brought home another win (3-2) Tuesday night while the girls lost to Grandview 3-2.
Boys doubles led the Grizzlies to victory Tuesday night.
Sunnyside #1 doubles players Johnny and Danny Plesha defeated Adrian Fajardo and Sean Urbina 6-1, 6-1.
"It was a good match for Johnny and Danny because those Grandview guys could hit back," said Sunnyside High School tennis Coach Troy Whittle.
In #2 doubles play, Sunnyside's Reid Schilperoort and Tony Cantu defeated Robert Madrigal and Nick Saldana 6-1, 6-2.
Whittle said Schilperoort and Cantu played well and dictated the pace of the match. He explained that when the Grandview duo dinked and lobbed the ball, Schilperoort and Cantu maintained their stroke.
Sunnyside #3 doubles players Jacob Barr and Jonathon Beals defeated Matt Sears and Emmanuel Lepez 6-3, 6-4.
"The other team just made more mistakes than we did," said Whittle.
In singles play, Grandview #1 singles player Kevin Floyd defeated Mark Uribe 6-0, 6-0.
Floyd is currently in the top standing for #1 singles players in the league, said Whittle.
Grandview's #2 singles player Marco Diaz also won, defeating Jake Wavrin 6-1, 6-1.
Grandview #1 girls player Miranda Schreeve defeated Wendy Chiprez, who recently recovered from a broken leg, 6-4, 6-7, 7-3.
"That was a pretty heated match," said Whittle, who added that line judges had to be called. "I've never seen that in three years of coaching high school tennis. It was a close match that could have gone either way."
Grandview #2 singles player Christina Meza defeated Deanne Trautman 6-3, 6-7, 7-3.
"Deanne was down 4-0 in the second set and came back, but still lost in the third," said Whittle. "It was a close match that could have gone either way."
No. 1 doubles players for Sunnyside, Dolores Gomez and Andrea Phillips, defeated Grandview's Andrea Kollmar and Megan Metteer 1-6, 6-3, 6-1.
Following the lead of the Grandview girls, Gomez and Phillips were drawn out of their game in the first set, said Whittle.
"They went back to the way they can play in the second and third sets," said Whittle.
Ai Tomazawa and Tonya Wysong played #2 doubles and defeated Sunnyside's Lizeth Chiprez and Erica Mendez 7-5, 5-7, 6-1. Tomazawa and Wysong normally play No. 3 doubles.
"This one shocked me," said Whittle.
This season Chiprez and Mendez's only loss together has been to the #2 doubles team from Grandview.
"What those girls did was they took them out of their game. They would lob and dink the ball, so we started to lob and dink the ball," said Whittle.
Sunnyside's #3 doubles players Jerika Martinez and Lana Pangle defeated Allison Grow and Danika Martinez 6-1, 7-5.
Rod Smith/Daily Sun News
Grandview's Megan Metteer gets her racket on a ball in yesterday's No. 1 doubles match against Sunnyside.