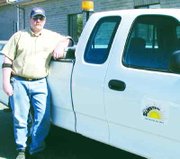 Karl Ford may be the new building inspector in Sunnyside, but working in the field is nothing new for the man who spent the last 10 months as a building inspector for Bonneville County in Idaho Falls, Idaho.
Ford said the opportunity to move to Sunnyside meant he would be closer to his family, which includes his wife Christina, who works as a preschool/kindergarten teacher in Woodland, and four children.
Ford said it's nice having his family only three hours away, instead of across the state. Ford, who is living in a house within walking distance of the Sunnyside building division, said he visits his family every other weekend. He noted that his wife and children are planning to move to the area over the summer, once school has ended.
Ford, who has lived primarily in Washington and Colorado, went to school at Portland Community College under Department of Labor and Industries retraining. He said he then had an internship with the City of Portland, and spent three months working for the City of Woodland.
Ford said being a building inspector is something that was familiar to him before he went to school, noting that his father was a general contractor.
"I grew up in the construction trade," Ford said.
According to Ford, during his time in Idaho Falls he spent his first few months working as a building inspector, then became a full-time plan reviewer.
"I really wanted to get back out in the field," he said.
Ford said when the job in Sunnyside came open it looked like the perfect opportunity to get back to doing what he enjoys, as well as a chance to be closer to his family.
Ford, who started working for Sunnyside on April 12, said so far he is enjoying his time working for the city.
"I like it here," Ford said. "I really feel comfortable."
He said between building inspections he has had a chance to do code enforcement work with Bill Eikenbary, as well as some plan reviewing with Mike Storms.
Ford said having two building inspectors on staff will mean that each of them will have more time to spend doing their job. He said in the short amount of time he has been with the city he has already had a chance to do several re-inspections and is able to stop and talk to people about what they are doing.