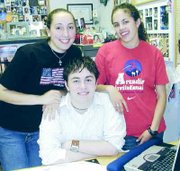 Sunnyside High School students expect to be singled out for honors based on their academics or performance on the athletic field. But few are ever honored for simply being great volunteers. Sunnyside High School Assistant Principal Jan Schuette has decided that oversight must change.
"We have a lot of students who receive no recognition for being helpful to the point that they go 'above and beyond' what is expected of them," Schuette explained.
In what she hopes will become a regular awards ceremony, four Sunnyside High school seniors were honored last week by the Sunnyside School Board for their outstanding contributions to their school.
SHS seniors Tanner Kellogg, Jennifer Jones, Alaina Hull and Isley Gonzalez were cited as being exemplary examples of young people who, when asked to take on a extracurricular project, go well beyond what is required of them in order to do a good job.
They were honored for special projects on which they organized and created for which they received no grade. "These were projects that will help to improve the climate of their school," Schuette explained.
To earn the "Above and Beyond" distinction, Kellogg helped Schuette put together a mini-movie, using school equipment to showcase the high school's diverse vocational-education program.
"It (the film) used "imovie" technology to include sound effects, music and sound for a very professional film presentation," Schuette said.
"His efforts were well beyond the traditional slide or power point presentation we've used in the past," she said.
"Tanner's work is an incredible example of film making," Schuette said.
She presented a five-minute version of Kellogg's efforts to the Sunnyside School Board last week. In addition to the five-minute board presentation, Kellogg created a longer 20-minute DVD of the film, which Schuette gave to the board members to take home to view at their leisure.
Schuette plans to use Kellogg's 20-minute version for school orientation programs in the future.
Schuette said the "Above and Beyond" award is based on the work the students did as community service projects. In the case of Gonzalez, Hull and Jones, their award was based on work they did in organizing materials in video form for the high school eighth grade transition programs. Included in their "imovie" presentation was a tour of the high school, interviews with principals and teachers. The movie recorded on a DVD will be used at eighth grade transition and parents night programs, Schuette said.
"It's a motivational film," she explained.
The girls included information about club and other extra curricular activities available at the high school on the DVD.
"We are excited to be honoring these students, who are leaving a visual legacy of their skills and talents behind," Schuette said.
"It is also exciting to see them taking advantage of the top-notch technology we have available at our high school," she added.
"All four students deserve our highest praise," she added.