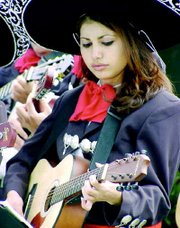 "You don't play Peter, Paul and Mary with an electric guitar," said Sunnyside High School band teacher Jim Sleater, explaining that just like acoustic guitars are used to create a unique American folk music sound, a mixture of trumpets, violins and nylon stringed guitars create a sound unique to mariachi music.
For the past two years the school district has been offering a class in a different kind of music. It's mariachi music, a form of Mexican folk music with Swiss European um-pah influences.
"A lot of people think it came from Mexico, but that's just were it became popular," said Sleater. Mexican culture has added its own flair to the music.
Two years ago the Wenatchee High School mariachi band performed for students in the Sunnyside School District. Just before spring registration, Sleater said Sunnyside School District Executive Director of School and Community Resources Ruben Carrera suggested Sunnyside try starting their own mariachi band.
With the encouragement of high school principal Dennis Birr, the first time mariachi band was offered as an elective the fall of 2002.
"We thought maybe we'd get a dozen kids," said Sleater. "Well, 30 kids signed up."
With a full class of students, most of whom had never picked up an instrument, Sleater had to look for someone who could help start the class off right. With 30 years of music education under his belt, he knew what a mariachi band was supposed to sound like, but had never taught a class in mariachi.
"We had kids, but we didn't have any instruments," said Sleater.
With the help of Luis Constansio of Texas Tech, the newly formed band learned the basics of playing and learned what really makes a mariachi band.
Although a mariachi band is normally seven people at the largest, Sleater's band includes 36 students this year.
"In the future it may take on a different look, but this is how it is for right now," said Sleater.
Most of the time the musicians playing the music are also the singers, but Sleater has a separate set of singers to perform.
A mariachi band is characterized by the intermixing of guitars, violins, accordions, trumpets and occasionally a harp.
As the program develops the youths are becoming more familiar with the instruments.
"The kids know the songs," said Sleater. "Since I don't speak Spanish I don't know what the words are saying, but we get a catalogue of the songs available and I go through it with the kids. They let me know what are good songs.
"We now understand we need to start a group in the middle school, so by the time they get to the high school they are veteran players," said Sleater.
More than anything, the mariachi band has been a way to get students into the music program, who haven't been involved in the past.
"Ninety-five percent of the kids in this program didn't come from band and they didn't come from choir," said Sleater. "We're just glad we can provide a musical opportunity for them, learning a type of music they like.
"It's great seeing the kids interested in learning music. When it's time to clean-up at the end of class they don't want to go. They say, one more song, one more song.
"It's been fun for me to learn a new style and new songs," Sleater added. "I find myself singing them all the time at home."
The Sunnyside High School mariachi band, which just recently purchased new uniforms, will be performing at the Sunnyside Cinco de Mayo celebration Saturday, May 8, at noon. They will be performing in Centennial Square.