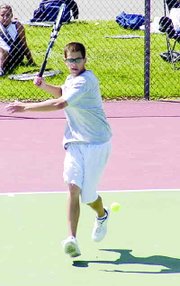 The Sunnyside High School boys tennis team enters this weekend's District tournament at Hanford on a bright note.
The Grizzlies, who started the season 0-7, beat Ellensburg at home this past Saturday 3-2. Sunnyside finished its Mid-Valley League campaign with a 4-10 record (5-10 overall). The Grizzlies won five of their last eight matches.
Sunnyside Coach Troy Whittle is excited about next season, especially since the Grizzly boys team doesn't lose a single player to graduation. Whittle said he felt the Sunnyside boys should have been a 9-6 team. He pointed out absences were a big problem on the boys side this season. Whittle said the Grizzlies lost four matches alone because of players being gone. Whittle said Saturday's win against Ellensburg was a nice way to wrap-up the regular season.
Whittle split up his regular No. 1 doubles team of Johnny and Danny Plesha on Saturday to play the top two singles spots.
At No. 1 singles for the Grizzlies was Danny Plesha. Plesha beat a competitive Jonathan Belford 6-0, 6-1.
"Danny was really frustrated with the way he played," said Whittle.
Whittle said that both Plesha brothers found it awkward to play singles after concentrating on doubles for much of the year.
Whittle said Danny had a dominating forehand with which Belford couldn't handle.
At No. 2 singles, Johnny Plesha handled Ellensburg's Ryan Seheffelmaier by identical marks of 6-1. Whittle said Johnny made a few unforced errors he normally wouldn't have committed.
The Grizzlies sealed the team win when Reid Schilperoort and Tony Cantu beat Ellensburg's Kyle Weyand and Jake Hanson 6-2, 1-6, 7-5. Whittle said in the first set his No. 1 doubles team dominated play, hitting powerful shots that landed inside the lines.
"In the second set, it just flipped flopped," said Whittle. "We were having a lot of unforced errors."
At No. 2 doubles, Sunnyside's Mark Uribe and Jake Wavrin lost 6-1, 6-4 to Ryan James and Max St. Brown.
Jonathan Beals and Jacob Barr lost a competitive No. 3 doubles match to Ellensburg's Taylor Hagbo and Joe Wahle 6-2, 1-6, 7-5. Whittle said his team did a much better job in the second set of hitting the ball into play. The Sunnyside pair was up 5-3 in the third set before losing the match.
Districts starts at 10 a.m. this Saturday at Hanford High School. Districts will conclude on Monday, May 17, in Richland.
. Mike Kantman can be contacted at (509) 837-4500, or email him at mkantman@eaglenewspapers.com