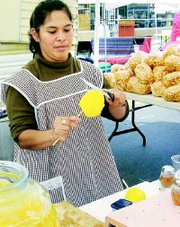 Sunnyside's South Sixth Street was lined from Franklin to Decatur avenues for Sunnyside's biggest Cinco de Mayo celebration this past weekend.
More than 100 vendors clamored for attention during the three-day event, offering everything from fresh mangos on a stick to huge helpings of beef fajitas and gorditos, as well as dozens of other carnival foods.
In addition, a brightly lit carnival and novelty booths all vied for the festival crowd's attention.
The three-day event was highlighted by Sunday's Cinco De Mayo Parade, which featured a blend of glossy low-rider car clubs and high prancing horses.
"We anticipated crowds of more than 25,000 people coming through town this weekend," said Kathy Corliss, Sunnyside Chamber of Commerce director of tourism and promotions.
"Sunday is traditionally the biggest day of the event," she said. "And this year was no exception."
Corliss and her committee spent most of Friday helping to iron out vendor space accommodations as well as minor problems with power outlets.
She said the entire community was very helpful setting up for the event, from the city street crews to the police department.
"Everyone was very helpful," she said.
In addition to the three days of street fair, the Centennial Stage offered a blend of entertainment from the Sunnyside High school mariachi band on Saturday afternoon to Texmex musical groups from throughout the Northwest.