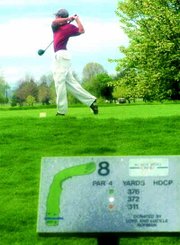 SELAH - First year Coach Glenn Braman's Sunnyside High School boys golf team earned a share of the Mid-Valley League crown yesterday by sweeping Selah and Wapato.
Assuming West Valley knocks off Selah to close out conference play, as is expected by those in the know, the Grizzly linksters will finish in a three-way tie with the Rams and Hanford for the top spot with identical 6-1 records.
"It's been a great season," said Braman. "The kids have been awesome.
"And, they're getting better each week. I really think we have a shot at winning the District title," he added.
This year's District tournament will be staged Monday, May 17, at Sunnyside's home course, Black Rock Creek.
"It's going to help that it's at our home course," said Braman. "We should know the course better than anyone.
"If the kids take their time and think a little bit, we might do pretty well. There are a couple of holes at Black Rock that are going to eat up some of the golfers, like No. 2 and 6. But if our kids think things through, play for just a par on those tough holes, it might be the difference in us winning the District title," he said.
The top 12 individual finishers at the District tournament, which will include teams from the Greater Spokane League, will move on to State.
"I think we have a really good shot at qualifying at least two of our kids for State," Braman continued. "Maybe even three.
"And legitimately, we have five kids who are good enough to get there.
"The ones who finish 4 or 5 over at District should be in for State," said Braman. "The kids who come in with a 78 or 79 will probably find themselves in a big playoff for the last couple spots to State."
Yesterday at Selah's Elks Country Club, the Grizzlies throttled both the host Vikings and Wapato. Sunnyside's Andrew Schutt and Ryan Webster shared medalist honors, each shooting a five-over 76, to lead the Grizzlies to a 312 team score. Selah was 47 strokes back with a 359. Wapato could only manage a 448 team score.
Webster, in sharing low round of the day honors with Schutt, posted his best score of the season.
"He told me he was going to take his scorecard home and frame it," laughed Braman.
Webster knocked down three birdie putts on the day. All told, Sunnyside claimed seven birdies in yesterday's match. Webster fired a pair of 38's. On the front side, he picked up two birds and two pars, bogeying five holes. After the turn, Webster cut his bogeys down to three. He parred five of the back nine holes and made another birdie, the last coming on the 510-yard, par-5 17th hole. He also ran in a 15-foot putt on the finishing hole to save par.
Schutt was a model of consistency in firing his 76 yesterday. He parred 11 of the 18 holes, taking bogey on just six of them. His lone birdie came on the par-4, 355-yard seventh hole.
Third in for the Grizzlies was Kevin Lick. Normally Sunnyside's top finisher, Lick posted a 78 (40-38). His highlight of the day came on No. 7, which he birdied. He finished with 12 pars and just three bogeys. Lick's undoing came on holes 4 and 14, which he triple and double-bogeyed, respectively.
"Kevin had three OB penalties," said Braman. "But even with those two bad holes, he didn't play all that bad."
Rounding out Sunnyside's team scorecard was Chris Trammel's 82 (42-40). With the exception of one hole, Trammel took nothing worse than a bogey. His lone blow-up was a double bogey. He recorded a birdie on the par-4, 382-yard 11th hole, six pars and 10 bogeys.
"It was a pretty decent round by Chris," said Braman.
Also playing for the Grizzlies yesterday, although their rounds weren't applied towards the team scoring, were Zack Hathaway and Jeramie Drollinger. Hathaway carded a 94 (48-46), which included nabbing a birdie on the 370-yard, par-4 15th. Drollinger shot a 99 (46-53).