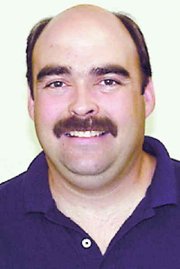 The Mabton School District will begin its search for a new superintendent starting next week.
Current Mabton Superintendent Kevin Chase has been hired as the new head of the Grandview School District.
Chase said the Mabton School District is in the process of hiring a firm to assist in the hiring of a new superintendent. He expects the process to begin next week.
Chase, 42, is excited about his new job as head of the neighboring Grandview School District.
"I think I was ready for a change," said Chase. "Grandview is a pretty appealing school district. I think (Grandview is) a district on the move."
Chase replaces retiring Grandview School District Superintendent John Mathis, who has overseen the district for the past seven years.
The home-grown Chase, who is a 1980 graduate of Sunnyside High School, will begin his new position in Grandview July 1. Chase's last day in Mabton is June 30.
Chase holds a Bachelor of Science degree in agriculture from Washington State University, where he also obtained his superintendent's credentials. Chase also obtained a Master's degree in education administration from Heritage College.
In 1985 Chase took on his first teaching job in the Granger School District, where he taught agriculture until 1990. From 1990-93, Chase took over the agriculture education program in the Mabton School District. From 1993-96, Chase served as assistant principal at Sunnyside High School. He then took the position of assistant superintendent in Mabton for one year before taking on his current position in 1997.
Chase, though, wasn't just handed his new Grandview position. He beat out two other finalists for the position after enduring a day-long interview process in late April. Chase's interview process as one of the three finalists involved meeting with all central office staff. He also toured each building in the district and met with building administrators for one hour. Chase then met with middle and high school students for an hour, which was followed by two more hours of meeting with various teachers in the district. Chase then went through a two-hour meeting with the Grandview School Board, which was followed by an hour-long meeting with community members.
One of the most apparent things that stood out for Chase during the day-long interview process was just how many people he knows in Grandview, he joked.
Chase said he learned a lot of other interesting aspects about Grandview during his interview. Chase said the students, faculty and community members are very much dedicated to continuing the educational success that has taken place in the community. He also learned that the community takes great pride in its newly remodeled school buildings. Chase said he was also taken with how involved and knowledgeable the school board is.
"The board is a good board," said Chase.
There are notable differences between the two school districts. Mabton has an enrollment of 907 students and a total staff of 105 employees. Grandview has 3,100 students and a total staff of 300.
Chase leaves Mabton with several notable personal accomplishments. Chase said one of the things he is most proud of is how there is a renewed focus on instruction in the district. Chase also speaks proudly of the newly remodeled Mabton Jr./Sr. High School, complete with updated educational and athletic facilities. One of the other accomplishments Chase is proud of is the work he has done with the Gates Foundation. The school district has been the recipient of several Gates grants. Mabton is also the recipient of the Gates Achievers Grant, which assist students in furthering their education. Mabton is the only school district in the nation to receive money for both programs from the Gates Foundation, said Chase.
Chase said he will miss Mabton.
"I love Mabton. It was a great place and it still is," said Chase. "I am just going to be next door."
But, he is looking forward to his new job.
"People are proud of Grandview," said Chase. "The first thing I am going to do is get in and listen."