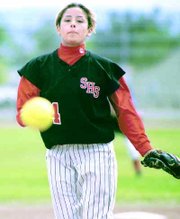 RICHLAND - Yikes! The Sunnyside High School girls fastpitch softball team learned the hard way why Hanford is unbeaten in Mid-Valley League play this season.
The Falcons closed out the regular season yesterday by blanking Sunnyside twice-16-0 and 17-0.
The good news for the Lady Grizzlies, though, is that they still qualified for the District playoffs. Sunnyside (5-9, 6-14) opens the postseason this coming Saturday with an 11 a.m. loser-out game against Selah. The top four finishing teams at Saturday's District tourney will advance on to Regional action.
The Lady Grizzlies ran into a buzz-saw yesterday in closing out their regular season schedule. Hanford ace Meg Barker limited Sunnyside to just three hits in the opener. Barker twirled a two-hitter in the nightcap. She fanned a total of nine Lady Grizzly batters in the doubleheader.
The one Lady Grizzly who had no difficulty with Barker in Tuesday's opening game was Lacey Yanez. She singled in both the third and fifth innings, finishing with 2-for-2 offensive stats. Sunnyside teammate Jessica Cruz added a 1-for-2 effort at the plate.
Cruz and Jenny Jones had the only hits off Barker in the twin bill finale, both singles.
Hanford lit up both Lady Grizzly pitchers they saw yesterday. The Falcons banged out 13 hits off Erika Garcia and Viri Pasillas in the first game, which included a 3-for-5, two-double effort by Woodford. Pasillas was touched for 22 hits in the second contest in going the distance.
"They're just a good hitting club," Sunnyside Coach Kris Gonzalez said of the Falcons. "Those girls down there play year-round. They're a step above everyone else in our league."